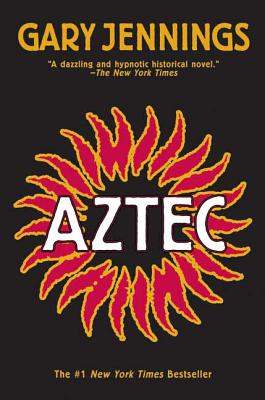 Aztec (Paperback)
Forge, 9780765317506, 754pp.
Publication Date: May 16, 2006
Description
Gary Jennings's "Aztec" is the extraordinary story of the last and greatest native civilization of North America. Told in the words of one of the most robust and memorable characters in modern fiction, Mixtli-Dark Cloud, "Aztec "reveals the very depths of Aztec civilization from the peak and feather-banner splendor of the Aztec Capital of Tenochtitlan to the arrival of Hernan Cortas and his conquistadores, and their destruction of the Aztec empire. The story of Mixtli is the story of the Aztecs themselves---a compelling, epic tale of heroic dignity and a colossal civilization's rise and fall.
About the Author
Gary Jennings was known for the rigorous and intensive research behind his books, which often included hazardous travel--exploring every corner of Mexico for his Aztec novels, retracing the numerous wanderings of Marco Polo for The Journeyers, joining nine different circuses for Spangle, and roaming the Balkans for Raptor. Born in Buena Vista, Virginia in 1928, Jennings passed away in 1999 in Pompton Lakes, New Jersey, leaving behind a rich legacy of historical fiction and outlines for new novels.
Praise For Aztec…
"A dazzling and hypnotic historical novel."--The New York Times
 
 "Anyone who reads, anyone who still lusts for adventure or that book you can't put down, will glory in Aztec."--Los Angeles Times
Advertisement