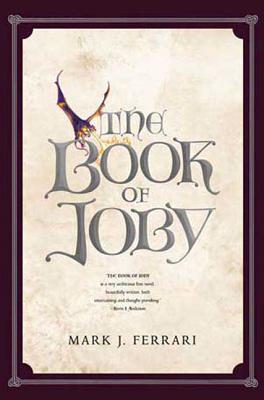 The Book of Joby
Paperback

* Individual store prices may vary.
Other Editions of This Title:
Mass Market Paperback (1/3/2012)
Description
The Book of Joby is an epic fantasy complete in one volume.

Lucifer and the Creator have entered, yet again, into a wager they've made many times before, but this time, the existence of creation itself is balanced on the outcome. Born in California during the twilight years of a weary millennium, nine year old Joby Peterson dreams of blazing like a bonfire against the gathering darkness of his times, like a knight of the Round Table. Instead, he is subjected to a life of crippling self-doubt and relentless mediocrity inflicted by an enemy he did nothing to earn and cannot begin to comprehend.

Though imperiled themselves, the angels are forbidden to intervene. Left to struggle with their own loyalties and the question of obedience, they watch Lucifer work virtually unhindered to turn Joby's heart of gold into ash and stone while God sits by, seemingly unconcerned.

And so when he is grown to manhood, Joby's once luminous love of life seems altogether lost, and Lucifer's victory assured. What hope remains lies hidden in the beauty, warmth, and innocence of a forgotten seaside village whose odd inhabitants seem to defy the modern world's most inflexible assumptions, and in the hearts of Joby's long lost youthful love and her emotionally wounded son. But the ravenous forces of destruction that follow Joby into this concealed paradise plan to use these same things to bring him and his world to ruin.

As the final struggle unfolds, one question occupies every mind in heaven and in hell. Which will prove stronger, love or rage?

The Book of Joby is an instant classic of contemporary fantasy.
Praise For The Book of Joby…
"Monumental. . . . The story is mesmerizing, Joby's angst is palpable, the love of God overwhelming, and the malevolence of Lucifer and his minions terrifying. . . . Offers much to ponder as well as enjoy." —Booklist, starred review

"The Book of Joby is a very ambitious first novel, beautifully written, both entertaining and thought-provoking." —Kevin J. Anderson

"The Book of Joby should have been called the Book of Joy. The magic of childhood, the magic of Camelot, the grand mystery of Creation, the tears of humanity, the petty cruelties of Hell, all are within these leaves. From schoolboy bullies to homeless shelters to an enchanted hometown where time stands still, from shy first love to tragedy and death…Mark Ferrari weaves his spell." —John C. Wright

"The Book of Joby is a rare gem, the kind that is only seen once every generation or so--a novel that sparkles with wit and charm, humor and wisdom, courage and compassion. Mark Ferrari reveals himself to be a master storyteller, never once faltering in his quest to entertain. Imagine a novel where Harry Potter meets King Arthur and they both go on a quest to fight the devil--and you'll only begin to grasp the kind of fun you'll have reading this book." —David Farland, author of Sons of the Oak

"A grand eschatological epic that rings heretofore undreamt changes on the eternal drama of a blameless man caught in a cosmic wager between Lucifer and the Creator." —James Morrow, author of The Last Witchfinder on The Book of Joby
Tor Books, 9780765317537, 640pp.
Publication Date: August 21, 2007
About the Author
For seventeen years, Mark Ferrari has made his living doing freelance illustration for such clients as Lucasfilm and Lucas Arts Games, Industrial Light and Magic, Electronic Arts, Chaosium Games, Amaze Entertainment, Tor, Ace, New American Library, The Science Fiction Book Club, and many others. The Book of Joby was his first novel.