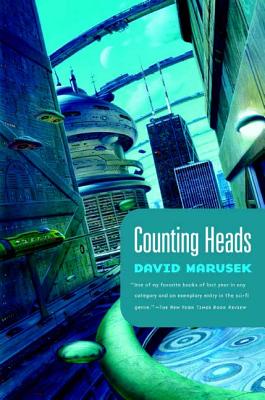 Counting Heads
Paperback

* Individual store prices may vary.
Other Editions of This Title:
Digital Audiobook (7/16/2009)
Description
Counting Heads is David Marusek's extraordinary launch as an SF novelist: The year is 2134, and the Information Age has given rise to the Boutique Economy in which mass production and mass consumption are rendered obsolete. Life extension therapies have increased the human lifespan by centuries. Loyal mentars (artificial intelligences) and robots do most of society's work. The Boutique Economy has made redundant ninety-nine percent of the world's fifteen billion human inhabitants. The world would be a much better place if they all simply went away.

Eleanor K. Starke, one of the world's leading citizens is assassinated, and her daughter, Ellen, is mortally wounded. Only Ellen, the heir to her mother's financial empire, is capable of saving Earth from complete domination plotted by the cynical, selfish, immortal rich, that is if she survives. Her cryonically frozen head is in the hands of her family's enemies. A ragtag ensemble of unlikely heroes join forces to rescue Ellen's head, all for their own purposes.

Counting Heads arrives as a science fiction novel like a bolt of electricity, galvanizing readers with an entirely new vision of the future.
Praise For Counting Heads…
"David Marusek is an extraordinarily gifted new writer, with unique ears and eyes . . . .Brims over with imaginative extrapolations." —Seattle-Post Intelligencer

"David Marusek's Counting Heads is the most exciting debut sf novel I've read since Neuromancer. Counting Heads isn't just one of the best first sf novels to come down the pike in some time; it's one of the best novels, period. I hope David Marusek will be writing more of them for centuries to come." —Elizabeth Hand, F & SF

"Counting Heads was one of my favorite books of last year in any category, and an exemplary entry in the sci-fi genre." —The New York Times Book Review

"Marusek keeps a deep and textured tale spinning along, filled with stresses, shocks and sidelong looks at extrapolations of present-day trends. I took extra care to keep my copy pristine, so it'll be presentable when I hand it off to another reader who'll enjoy it as much as I did." —The San Diego Union-Tribune

"Counting Heads is a compelling and powerful read. Marusek isn't afraid of asking hard questions--nor is he afraid to try and find answers. . . .One of the best sf novels of this (and perhaps any year) Counting Heads gives us a rich mix of social commentary, speculation, and adventure, all garnished with a tiny pinch of hope." —Vector

"There are more ideas to the page in this auspicious debut novel than many sci-fi novels have in their entirety. . . .Marusek evokes an impelling sense of wonder with an awesomely imaginative and all-too-believable future chock full of nifty details while allowing his characters to compel the novel. Counting Heads is a marvelous must-read from an author who must be noted as an important new voice in science fiction." —CFQ

"David Marusek's first novel is a wildly inventive story of a future dependent on clones and artificial intelligence. . . . Counting Heads is thick with invention and has an action-filled plot, but Marusek shines in filling it with well-rounded characters." —The Denver Post

"An intriguing, inventive, and provocative look at cloning that was the best first novel of the year and one of the best SF novels of the decade so far." —Locus

"Counting Heads is full of both invention and action. It is dense and thought-provoking, and its story pulls the reader along until the very last page. Let's hope there's more where this came from." —Bookpage

"This exciting debut adventure poses interesting questions with a healthy dose of humor and derring-do. What happens when the technology of tomorrow becomes a reality. . . .Innovative plotting and realistic characterization combine to make a believable, captivating futuristic adventure." —Romantic Times BOOKreviews

"With subplots exploring the identity problems of clones, the solutions to a particularly nasty overpopulation problem, and the remnants of some invidious "biologicals" that have required the doming-over of major cities, Marusek presents a gripping conspiracy in an uncomfortably three-dimensional future." —Booklist

"Counting Heads: exciting, major new sf novel. . . .David Marusek is one of the best-kept secrets of science fiction, a wild talent with a Gibson-grade imagination and marvelous prose, and a keen sense of human drama that makes it all go. . . .It's hard to summarize this book because again and again, the plot hinges on wonderful, original inventions, and just describing the storyline would spoil too many of David's delightful surprises. I haven't felt as buffeted by a book since Gibson's Neuromancer -- haven't felt more like I was reading something truly radical, new and exciting. . . .When David was writing short stories, he was an exciting writer. Now that he's onto novels, he's practically a force of nature." —Cory Doctorow

"This extraordinary debut novel puts Marusek in the first rank of SF writers. . . .Marusek's writing is ferociously smart, simultaneously horrific and funny, as he forces readers to stretch their imaginations and sympathies. Much of the fun in the story is in the telling rather than its destination . . . .exciting and wonderful." —Publishers Weekly

"Counting Heads has every virtue of the science fiction classic it is certain to become: it's an utterly convincing and deeply troubling extrapolation of the right-now, its language and a technology at once new and weirdly familiar. But it also has qualities rare even in the greatest SF classics: real persons, real suffering, real costs, and a fully achieved human drama. Absolutely splendid." —John Crowley
Tor Books, 9780765317544, 336pp.
Publication Date: October 16, 2007
About the Author
David Marusek spins his quirky tales of the future by the glow of the Northern Lights in Fairbanks, Alaska. He is the author of Counting Heads and Mind Over Ship.