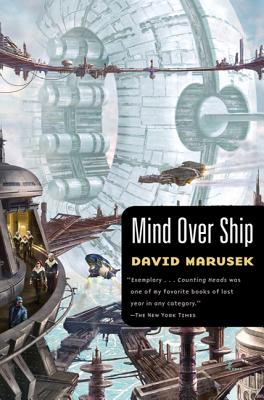 Mind Over Ship (Counting Heads #2) (Paperback)
Tor Books, 9780765317551, 320pp.
Publication Date: March 16, 2010
* Individual store prices may vary.
Description
"David Marusek is one of the best-kept secrets of science fiction, a wild talent with a Gibson-grade imagination and marvelous prose, and a keen sense of human drama that makes it all go"
--Cory Doctorow, author of Little Brother

The year is 2135, and the international program to seed the galaxy with human colonies has stalled as greedy, immoral powerbrokers park their starships in Earth's orbit and begin to convert them into space condos. Ellen Starke's head, rescued from the fiery crash that killed her mother, struggles to regrow a new body in time to restore her dead mother's financial empire. And Pre-Singularity AIs conspire to join the human race just as human clones, such as Mary Skarland and her sisters, want nothing more than to leave it.
Welcome to Mind Over Ship, the sequel to Marusek's stunning debut novel, Counting Heads, which Publishers Weekly called "ferociously smart, simultaneously horrific and funny."
About the Author
David Marusek spins his quirky tales of the future by the glow of the Northern Lights in Fairbanks, Alaska. He is the author of Counting Heads and Mind Over Ship.
Praise For Mind Over Ship (Counting Heads #2)…
"A fully-realized speculative future scenario. If you've ever wanted to mash up Philip Roth with Philip K. Dick and read the results, then David Marusek is your man." —i09
"[Marusek's] speculations are the fruits of a first rate intelligence harnessed to a gonzo imagination. . . . Masterful." —Locus
"It's been a four year wait for David Marusek's second novel. The result is marvelous." —The Denver Post
"Marusek has built a solid world and paces the unfolding of corporate takeover and social mayhem so as to jeep the reader fascinated. And the resolution is elegant and satisfying." —Booklist
"The sequel to Counting Heads proves as deliriously imaginative and fresh as its predecessor. Strong writing and a whimsically cynical vision of the future make this an excellent choice for most sf collections." —Library Journal
"Don't miss a word of this complex, challenging, extraordinary saga." —Kirkus Reviews (starred review)
"Marusek's world is a rich blend of corporate intrigue, violence, technological wizardry, and more." —SFRevu.com
"Marusek's wide-ranging and creative imagination is very much in evidence in this ambitious second novel…. With ambitious narrative scope and small moments of perfect prose, this tale of 22nd-century politics repays the close reading necessary to follow its many interweaving plots." —Publishers Weekly (starred review)