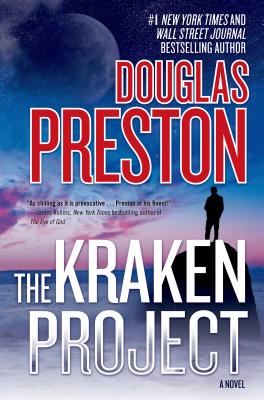 The Kraken Project
A Novel (Wyman Ford Series #4)
Hardcover

* Individual store prices may vary.
Description
From celebrated Relic author Douglas Preston, Wyman Ford races to stop a rogue AI in The Kraken Project, a New York Times bestselling thriller "as chilling as it is provocative" (James Rollins)
NASA is building a probe to be splashed down in the Kraken Mare, the largest sea on Saturn's great moon, Titan. It is one of the most promising habitats for extraterrestrial life in the solar system, but the surface is unpredictable and dangerous, requiring the probe to contain artificial intelligence software. To this end, Melissa Shepherd, a brilliant programmer, has developed "Dorothy," a powerful, self-modifying AI whose true potential is both revolutionary and terrifying. When miscalculations lead to a catastrophe during testing, Dorothy flees into the internet.
Former CIA agent Wyman Ford is tapped to track down the rogue AI. As Ford and Shepherd search for Dorothy, they realize that her horrific experiences in the wasteland of the Internet have changed her in ways they can barely imagine. And they're not the only ones looking for the wayward software: the AI is also being pursued by a pair of Wall Street traders, who want to capture her code and turn her into a high-speed trading bot.
Traumatized, angry, and relentlessly hunted, Dorothy has an extraordinary revelation—and devises a plan. As the pursuit of Dorothy converges on a deserted house on the coast of Northern California, Ford must face the ultimate question: is rescuing Dorothy the right thing? Is the AI bent on saving the world… or on wiping out the cancer that is humankind?
Praise For The Kraken Project: A Novel (Wyman Ford Series #4)…
"Chilling and all too convincing, this brilliant, nightmarish take on the future of cyber-consciousness is one of the few thrillers that truly thrills - while raising questions that should unsettle every one of us."—Booklist
Forge Books, 9780765317698, 352pp.
Publication Date: May 13, 2014
About the Author
Douglas Preston is the co-author with Lincoln Child of the celebrated Pendergast series of novels, including such bestselling titles as Fever Dream, The Book of the Dead, The Wheel of Darkness, and Relic, which became a number one box office hit movie. His solo novels include the New York Times bestsellers Impact, Blasphemy, The Codex, and Tyrannosaur Canyon. Preston is an expert long-distance horseman, a member of the elite Long Riders Guild, and a Fellow of the Royal Geographical Society. He has travelled to remote parts of the world as an archaeological correspondent for The New Yorker. He also worked as an editor and writer at the American Museum of Natural History in New York and taught nonfiction writing at Princeton University. Preston is on the Board of Directors for International Thriller Writers, and serves on the Governing Council of the Authors Guild.
or
Not Currently Available for Direct Purchase