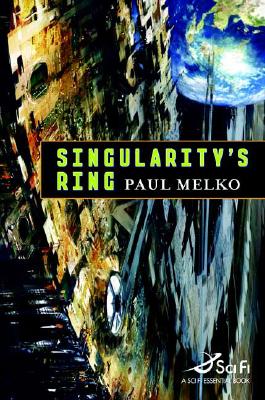 Singularity's Ring
Hardcover

* Individual store prices may vary.
Other Editions of This Title:
Mass Market Paperback (4/28/2009)
Description
The debut novel from a exciting new voice in SF—about what happens after ninety percent of humanity leaves Earth There is an artificial ring around the Earth and it is empty after the Singularity. Either all the millions of inhabitants are dead, or they have been transformed into energy beings beyond human perception. Earth's population was reduced by ninety percent. Human civilization on Earth is now recovering from this trauma and even has a vigorous space program. Apollo Papadopulos is in training to become the captain of the starship Consensus. Apollo is a unique individual in that he/she/it is not an individual at all, but five separate teenagers who form a new entity. Strom, Meda, Quant, Manuel, and Moira are a pod, as these kinds of personalities are called, genetically engineered to work as one and to be able to communicate non-verbally. As a rare quintet, much relies on the successful training of Apollo, but as more accidents occur, the pod members struggle just to survive.
Praise For Singularity's Ring…
"Singularity's Ring is a distinctive vision of a post-singularity future, where group minds and human singletons struggle to control the sinister consequences of a failed transcendence. Melko gives us an absorbing tour of a world where humanity isn't what it used to be. He's got a distinctive voice that shows a lot of promise." —Charles Stross
"Bursts forth like a new universe exploding into being; a major book that happens to also be the debut novel of a stellar new talent." —Robert J. Sawyer
"Accessible and engaging post-singularity fiction, driven by engaging characters and fabulous world building. Paul Melko may be our next Vernor Vinge or Bruce Sterling…engaging and tough to put down." —Brenda Cooper, co-author of Building Harlequin's Moon
Tor Books, 9780765317773, 320pp.
Publication Date: February 5, 2008
About the Author
Paul Melko lives in Ohio. This is his first novel.
or
Not Currently Available for Direct Purchase