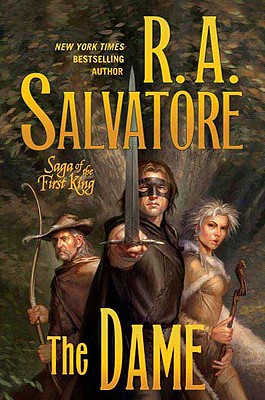 The Dame (Hardcover)
Tor Books, 9780765317902, 400pp.
Publication Date: August 18, 2009
* Individual store prices may vary.
or
Not Currently Available for Direct Purchase
Description
The vast road network of Honce, completed a decade before, had brought great optimism to the people of the land. Commerce could travel more freely and so could armies, and those armies, it was hoped, would rid the land at long last of the vicious, bloody cap dwarfs and goblins. For the first time, the many individual kingdoms, the holdings of Honce, would be brought closer together, perhaps even united. For the last few years, those promises had become a nightmare to the folk, as two powerful lairds fought for supremacy of a hoped-for united kingdom.
Bransen Garibond, the Highwayman, held little real interest in that fight. To him the warring lairds were two sides of the same coin. Whichever side won, the outcome for the people of Honce would be the same, Bransen believed. A journey north, however, taught Bransen that his views were simplistic at best, and that some things--like honor and true friendship-- might truly matter.
In The Dame, Bransen's road becomes a quest for the truth, of Honce and of himself, a quest to put right over wrong. That path is fraught with confusion and fraud, and a purposeful blurring of morality by those who would seek to use the Highwayman's extraordinary battle skills and popularity among the commonfolk for their own nefarious ends.
About the Author
R. A. Salvatore is one of fantasy's most popular authors, with his books frequently appearing on the "New York Times" bestseller list and more than 10 million copies of his books sold. He is the author of "The Bear," " The Ancient," and "The Highwayman" as well as "Gauntlgrym," The Legend of Drizzt books, including the Dark Elf Trilogy--"Homeland," "Exile," and "Sojourn"--and the Demon Wars series, among many others. Salvatore was born in Massachusetts, and earned a B.S. in communications and a B.A. in English from Fitchburg State College. He lives in Massachusetts with his wife, Diane, and their three children.
Advertisement