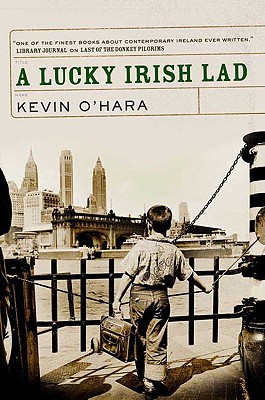 A Lucky Irish Lad (Hardcover)
Forge Books, 9780765318039, 384pp.
Publication Date: February 2, 2010
Other Editions of This Title:
Paperback (2/1/2011)
* Individual store prices may vary.
Description
Kevin O'Hara recreates his boyhood with these wonderful stories of growing up in Massachusetts in the 1950s and 60s as one of eight children. His parents, born in Ireland, came to this country for their children's sake. His family struggled against grinding poverty but they never gave up and never lost their faith that God had a plan for them.

Kevin learned the lessons of making do and making things last, and what the true riches of the world are: good health and the love of a united family. All these lessons grounded him as he reached adulthood…and was sent off to fight in wilds of Vietnam as a reluctant solider.

This book will tug at your heart and make you cry tears of both sorrow and joy. It is a story about the Irish-American experience but it is much more--it's the story of a generation growing up in the shadow of the Second World War and the start of a new age of hope and promise, a time when people believed that anything was possible as long as you dared to dream and had faith in yourself.

And a little Irish luck couldn't hurt either.
About the Author
Kevin O'Hara is the author of "Last of the Donkey Pilgrims," an autobiographic telling of his travels around the coastland of Ireland with his beloved donkey Missy. A psychiatric nurse for more than 25 years, O'Hara still resides in Pittsfield, Massachusetts, the place to which his parents emigrated.
Praise For A Lucky Irish Lad…
"Told in a loquacious style and hitting all the iconic moments of childhood, from his first baseball mitt to his first kiss, this engaging memoir is sure to warm hearts and elicit knowing nods from like-minded baby boomers nostalgic for their own childhoods."--Booklist
"With great affection and narrative skill Kevin O'Hara brings back an era that needs to be remembered--a moment common to many Irish Americans."--Mary Pat Kelly, author of Galway Bay
"
Kevin O'Hara's memoir of being Irish and growing up in small-town America of the Fifties and Sixties captures the time, the place, and the ethnic family values with such an unerring eye that you'll hear the bands on the Fourth of July, taste Mallow cup candies, share in the cadences of the rosary—and smell a young draftee's fear in the horror that was the Vietnam War. This is memoir as tour de force."—Patrick Taylor, New York Times best selling author of An Irish Country Doctor
 "A story of growing up Irish and American that will stir deep emotions in every reader. Read it now and enjoy the movie later!"—Thomas Fleming, winner of the Lincoln Prize for Lifetime Achievement in History; and the New York Times bestselling author of The Secret Trial of Robert E. Lee 
"Kevin O'Hara crystallizes the Irish-American experience of the mid-Twentieth Century as vividly, as accurately, and as humorously as anyone has yet. So read the book. You'll feel lucky, too."--William Martin, New York Times bestselling author of Back Bay and The Lost Constitution 
"This funny, sweet and fast-moving memoir tells the story of growing up in a large Irish family in a small Yankee town -- a way of life that has almost disappeared.  Kevin O'Hara deserves a prominent place in the long tradition of the Berkshire's finest storytellers."—Debby Applegate, Winner of the 2007 Pulitzer Prize for The Most Famous Man in America: The Biography of Henry Ward Beecher
or
Not Currently Available for Direct Purchase