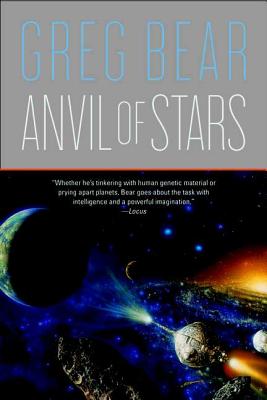 Anvil of Stars
Paperback

* Individual store prices may vary.
Other Editions of This Title:
Paperback (5/20/2014)
MP3 CD (5/3/2016)
Description
Greg Bear's The Forge of God described the destruction of Earth itself by self-replicating robots, Von Neumann machines designed to use the planet's mass to create more robotic creatures and spread throughout the Galaxy. In Anvil of Stars, only a few humans have survived, aided by a mysterious alien race known only as "The Benefactors", who arrived at Earth too late.

Now the small group of human survivors is determined to track down the criminal race who launched the planet killers. Humanity is given a starship by The Benefactors, and driven only by revenge they set out to find the unknown beings who are responsible for the destruction of Earth, and many other worlds.
Praise For Anvil of Stars…
"Like Orson Scott Card's Ender's Game, this sequel to The Forge of God explores the issues of morality and justice, using children as its vehicle. Bear's treatment differs, however, in that his characters have already lost their innocence and face their destiny with open eyes. As a stylist, Bear writes with a heady brilliance that communicates a sense of immediacy and credibility." —Library Journal on Anvil of Stars

"One of the outstanding sf novels of the current year is also the best book so far from an author whose versatility is continually growing. Literate hard-science or alien invasion novels are no longer rare, but a book such as this, which effectively blends these concepts and is also compellingly written, is a joy to behold." —ALA Booklist on The Forge of God
Orb Books, 9780765318145, 448pp.
Publication Date: March 4, 2008
About the Author
Greg Bear is the author of more than thirty books of science fiction and fantasy, including The Forge of God, Eon, Slant, and the Nebula Award winning novel Moving Mars.  He has also written gaming tie-ins such as Halo: Cryptum, and Hull Zero Three. Awarded two Hugos and five Nebulas for his fiction, he is one of only two authors to win a Nebula in every category. He has been called the "Best working writer of hard science fiction" by The Ultimate Encyclopedia of Science Fiction. His stories have been collected into an omnibus volume by Tor Books, The Best of Greg Bear. Bear has served on political and scientific action committees and has advised Microsoft Corporation, the U.S. Army, the CIA, Sandia National Laboratories, Callison Architecture, Inc., and other groups and agencies. He is married to Astrid Anderson Bear and is the father of Erik and Alexandra.