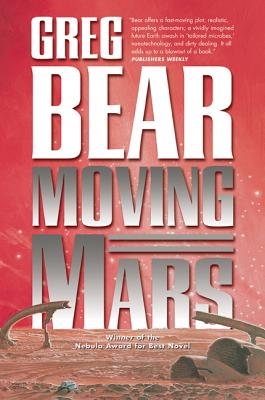 Moving Mars (Paperback)
Orb Books, 9780765318237, 448pp.
Publication Date: September 5, 2000
Description
"Moving Mars" is a story of human courage and love set within the greater saga of a planetary liberation movement. Mars is a colonial world, governed by corporate interests on Earth. The citizens of Mars are hardworking, but held back by their lack of access to the best education, and the desire of the Earthly powers to keep the best new inventions for themselves. The young Martians -- the second and third generations born on Mars -- have little loyalty to Earth, and a strong belief that their planet can be independent. The revolution begins slowly, but will grow in power over decades of political struggle until it becomes irresistible.
Told through the eyes of an extraordinary character, Casseia Majumdar, a daughter of one of Mars' oldest, most conservative Binding Multiples, "Moving Mars" is Greg Bear's brilliant conception of the human colonization of the red planet, with lovingly painted details and a grand historical sweep, embellishing an audacious scientific speculation.
About the Author
Greg Bear is the author of some of Tor's bestselling titles, including Eon and The Forge of God. He has won multiple Hugo and Nebula awards for his novels and short fiction. Bear lives in the Seattle, WA area with his wife, Astrid, and their two children.
Praise For Moving Mars…
Praise for Greg Bear's Moving Mars

"If anyone is the complete master of the grand-scale sf novel, it's Bear....[Moving Mars] is also told extremely well with nothing lacking in either scientific soundness or literary excellence." --Booklist "Long, epic in sweep, and scrupulous in its details....The novel's best moments involve Bear's ingenous biological and physical speculations, which do not simply color the narrative but...shape and inform its texture." --Washington Post Book World "Bear's Mars is one of the most vividly realized of the areological novels...He has the gift of implying a whole background with high-resolution but subtly-signaled background details, again built into the language of the milieu rather than in more obtrusive devices." --Locus

"Moving Mars is an accomplished, thoroughly mature novel that should be placed at the top of anyone's 'to be read' stack." --Science Fiction Age

"Bear, on of the stars of contemporary SF, shows the heights to which SF can reach in this sprawling, literate, science-laden saga." --Kliatt
Advertisement