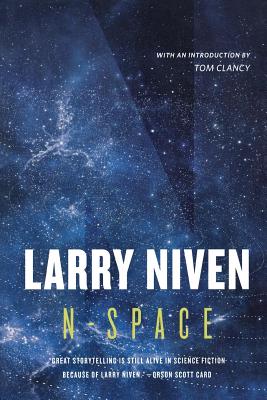 N-Space (Paperback)
Tor Books, 9780765318244, 544pp.
Publication Date: August 21, 2007
Other Editions of This Title:
Mass Market Paperback (9/1/1991)
* Individual store prices may vary.
Description
Arthur C. Clarke was once asked to name his favorite writer. His answer was "Larry Niven." Countless others agree. The Baltimore Sun and Kirkus Reviews have both dubbed Niven "the premier writer of hard SF," and Gregory Benford has hailed him as "the paradigm of SF personality of the last several decades."
Now Larry Niven presents us with his undisputed masterwork. N-Space contains, very simply, the best SF of his career--marvelous fiction, a wealth of anecdotes and gossip, plus Niven's own special brand of wit and excitement.
N-Space includes:
*Excerpts from some of Niven's most loved novels, including The World of Ptavvs, a Gift from Earth, Ringworld, and The Mote in God's Eye
*His bets short fiction, including "Bordered in Black," "The Fourth Profession," "Madness Has Its Place," and many others
*Quips like the ever growing list of "Niven's Laws"
*Notes from Niven describing his inspirations and building blocks for his writing.
*And an introduction by Tom Clancy, one of Niven's biggest fans.
About the Author
Larry Niven is the award-winning author of the Ringworld series, along with many other science fiction masterpieces and fantasy including the Magic Goes Away series. His Beowulf's Children, co-authored with Jerry Pournelle and Steven Barnes, was a New York Times bestseller. He has received the Nebula Award, five Hugos, four Locus Awards, two Ditmars, the Prometheus, and the Robert A. Heinlein Award, among other honors. He lives in Chatsworth, California.
Praise For N-Space…
"A writer of supreme talent." —Tom Clancy
"Niven lifts the reader far from the conventional world--and does it with a dash." —Los Angeles Times
"Great storytelling is still alive in science fiction because of Larry Niven." —Orson Scott Card
"A must for sci-fi fans." —Publishers Weekly on N-Space
"Outstanding . . . Hours of entertainment to be had here." —Houston Post on N-Space