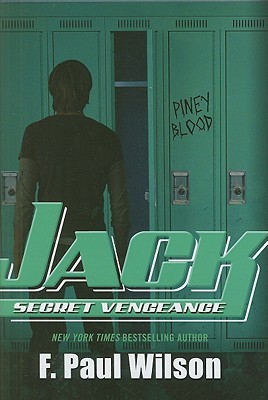 Jack: Secret Vengeance (Hardcover)
Secret Vengeance
Tor Books, 9780765318565, 301pp.
Publication Date: February 1, 2011
* Individual store prices may vary.
or
Not Currently Available for Direct Purchase
Description
Everyone loves senior Carson Toliver, the captain and quarterback of the football team, heartthrob of South Burlington County Regional High especially the girls. Even Jack's best friend Weezy has a crush on him. And unlike most of the popular kids at school, he's not stuck up. Jack even sees him defending a piney kid who is being bullied in the hall. Which is why Jack is so surprised when Weezy tells him that Carson took her on a date and attacked her.
Jack tries to convince her to report Carson, but Weezy would rather just forget it ever happened. She begs him not to tell anyone, and Jack reluctantly agrees. But then Carson starts telling his own version of what happened that night and suddenly everyone is calling her "Easy Weezy." Jack's concern turns to rage. Carson needs to be taught a lesson. With the help of the pineys reclusive inhabitants of the mysterious Jersey Pine Barrens who have secrets of their own Jack finds a way to exact secret vengeance
In F. Paul Wilson's third young adult novel, the teenage Jack demonstrates the skills that will serve him later in life as the urban mercenary known as Repairman Jack.
About the Author
F. Paul Wilson is the "New York Times" bestselling author of horror, adventure, medical thrillers, science fiction, and virtually everything in between. His books include the Repairman Jack novels, including "Ground Zero," "The Tomb," and "Fatal Error"; the Adversary cycle, including "The Keep"; and the young adult series featuring the teenage Jack. Wilson has won the Prometheus Award, the Bram Stoker Award, the Inkpot Award from the San Diego ComiCon, and the Lifetime Achievement Award of the Horror Writers of America, among other honors. He lives in Wall, New Jersey.
Praise For Jack: Secret Vengeance…
"Wilson deftly keeps interest high with well-drawn characterizations, modulating the thrills with details of day-to-day life in the early 1980s. Cracking good fun for teens."—Kirkus Reviews on Jack: Secret Histories "This is a fun and exciting read that will appeal to all audiences. It is a must have for any library. It is a great book for general entertainment, and it will take many adults on a nostalgic journey to their teen years."—Children's Literature on Jack: Secret Histories
"Readers of the adult Repairman Jack novels will enjoy bringing their background to this reading, but, luckily for kid readers, knowledge of the series is not vital to enjoying this smart, spooky mystery adventure."—Kirkus Reviews on Jack: Secret Circles
"Wilson has created an engaging, fast-paced and yet deeply thought provoking work that builds upon (and builds up) the Repairman Jack mythos. It might seem like a book for younger readers, but Wilson's many fans will want to grab a copy right away. Strongly recommended."—SFRevu.com on Jack: Secret Circles
Advertisement