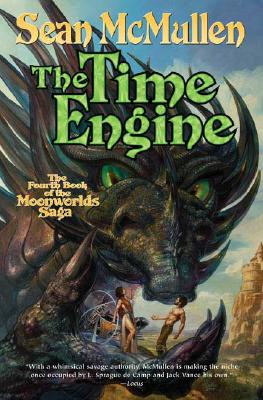 The Time Engine
The Fourth Book of the Moonworlds Saga
Hardcover

* Individual store prices may vary.
Other Editions of This Title:
Paperback (7/17/2012)
Description
Swords, sorcery, and time travel are a strange and dangerous mix
Wayfarer Inspector Danolarian saw his world's future and did not approve. The inspector knew about time travel because he had once met his future self. What he did not know was that he would be abducted into the future, and wind up on the run with a constable who had shape-shifted into a cat. Danolarian would also find himself marooned in the ancient past, where he would have to recover his time engine from five thousand naked, psychopathic horsemen.
A faulty repair plunges him another three million years back in time, to a world of strange, beautiful people living idyllic lives in splendid castles. But things are not always as they seem. After being attacked, he learns from his unlikely rescuer that time travel is not entirely real. A furious Danolarian returns to his own time, planning revenge against the time engine's true builders.
Praise For The Time Engine: The Fourth Book of the Moonworlds Saga…
Praise for The Time Engine:

"Engaging. . . . In such a boisterously populous imaginary milieu the narrative possibilities are endless. . . . Like L. Sprague de Camp in his prime, Sean McMullen is an exotic adventurer of authentic, if wayward, genius."--Locus

"A very enjoyable tale o f swords and sorcery, dragons and derring-do, with plenty of unexpected angles. . . . Inspector Danolorian narrates with a combination of gaucherie and self-confidence that the reader, along with nearly every woman he meets, should find endearing."
--Romantic Times BOOKreviews

Praise for Voidfarer:
"Imagine Alexandre Dumas's account of H.G. Wells's Martians invading Terry Pratchett's Discworld . . . . A vibrant, thoughtful, spectacular, adventure-drama." –
Kirkus Reviews
, starred review
"Zany. . . . Fans of Wells's masterpiece will revel in this fantasy." –
Publishers Weekly
"Sean McMullen's back in his funny, rowdy, bawdy moonworld Verral. . . .Third in this series, after the lovely
Voyage of the Shadowmoon
and
Glass Dragons
, this volume has McMullen's characters reprising H.G. Wells'
War of the Worlds
and a series of love-and-sex mistakes that could've been lifted from Shakespeare . . . . One very fun novel." –
The San Diego Union-Tribune
"Vastly entertaining, McMullen's book turns all sorts of fantasy tropes upside down in a fast-paced and humorous way. Fans of Terry Pratchett will likely get a kick out of this book, as will readers who are tired of seeing the same things over and over again in fantasy novels." –
Romantic Times BOOKreviews
Tor Books, 9780765318763, 304pp.
Publication Date: July 22, 2008
About the Author
Sean McMullen is one Australia's leading SF and fantasy authors, and lives in Melbourne. He has had a dozen books published, and is the winner of thirteen awards for SF and fantasy.
or
Not Currently Available for Direct Purchase