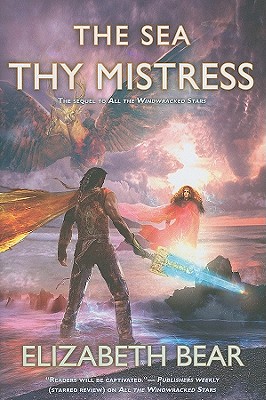 The Sea Thy Mistress (Hardcover)
Tor Books, 9780765318848, 336pp.
Publication Date: February 1, 2011
* Individual store prices may vary.
or
Not Currently Available for Direct Purchase
Description
This direct sequel to Elizabeth Bear's highly acclaimed All the Windwracked Stars picks up the story some fifty years after Muire went into the sea and became the new Bearer of Burdens.

Beautiful Cathoair, now an immortal warrior angel, has been called back to the city of Eiledon to raise his son--Muire's son as well, cast up on shore as an infant. It is seemingly a quiet life. But deadly danger approaches…the evil goddess Heythe, who engineered the death of Valdyrgard, has travelled forward in time on her rainbow steed. She came expecting to gloat over a dead world, the proof of her revenge, but instead she finds a Rekindled land, renewed by Muire's sacrifice.

She will have her revenge by forcing this new Bearer of Burdens to violate her oaths and break her bounds and thus bring about the true and final end of Valdyrgard. She will do it by tormenting both Cathoair and his son Cathmar. But Mingan, the gray wolf, sees his old enemy Heythe's return. He will not allow it to happen again.
About the Author
ELIZABETH BEAR is a two-time Hugo Award winning writer. She is the author of fourteen previous novels, including the first two books of The Edda of Burdens: "All the Windwracked Stars "and "By the Mountain Bound." She lives in Connecticut.
Praise For The Sea Thy Mistress…
"A satisfying end to a most satisfying series.... Bear's use of Norse myths is outstanding and her reimagining of them is simply top-notch."
--RT Book Reviews (Top Pick!)
Praise for All the Windwracked Stars:

"Bear creates a world with an astonishing depth of mythology in a tale that begins with Ragnarok…Bear's world-building echoes the best of Zelazny and pulls the reader into the story and the history until it's over. Muire is one of Bear's more interesting and likable characters, and the mythology Bear deploys promises further satisfying stories based in it."  —Booklist (starred review)

"Bear's ability to create breathtaking variations on ancient themes and make them new and brilliant is, perhaps, unparalleled in the genre. Her lyrical style and heroically flawed characters make this a priority purchase for most libraries. Highly recommended."  —Library Journal (starred review)

Praise for By the Mountain Bound:

"Numerous fantasy authors adopt the tropes of Norse mythology, but Bear actively pursues them, channeling those myths directly rather than overlaying them on more familiar ones. The result demands much from readers, but repays it in vivid, sensual imagery of a wholly different world."  —Publishers Weekly
Advertisement