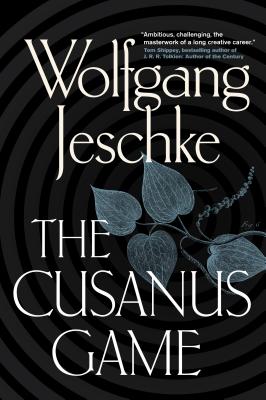 The Cusanus Game (Paperback)
Tor Books, 9780765319098, 544pp.
Publication Date: September 23, 2014
* Individual store prices may vary.
Description
Biologist Domenica Ligrina fears her planet is dying. She might be right.
An atomic disaster near the French-German border has contaminated Northern Europe with radioactivity. Economic and political calamities are destroying the whole planet. Human DNA is mutating, plant species are going extinct, and scientists are feverishly working on possible solutions. It becomes increasingly apparent that the key to future salvation lies in the past. In 2052 a secret research facility in the Vatican is recruiting scientists for a mission to restore the flora of the irradiated territories. The institute claims to have time travel. When Domenica's sometime-lover tells her that he knows her future but that she must decide her own fate, she enlists despite his ambiguous warning.
The Middle Ages hold Domenica spellbound. She immerses herself in the mysteries, puzzles, and peculiarities of a culture foreign to her, though she risks changing the past with effects far more disastrous than radiation poisoning. Perhaps there is more than one Domenica, and more than one catastrophe
In the tradition of Stanislaw Lem and Philip K. Dick, Wolfgang Jeschke's The Cusanus Game is a novel of future disaster in Europe by the grand master of German science fiction
About the Author
WOLFGANG JESCHKE is a German science fiction editor and author of The Cusanus Game.
Praise For The Cusanus Game…
"An extraordinarily ambitious novel combining the best of the thriller, the historical novel, and detailed science fiction. . . . Outstanding." —L. E. Modesitt, Jr., New York Times bestselling author of The Imager Portfolio and the Recluce Saga
"In this new novel, Wolfgang Jeschke again reflects magnificently on the nature of our pasts and futures.  Always an ambitious, ironic writer who escapes the traps of triviality, this long awaited new work is no exception, presenting an unanswerable truth: so much of our present and future is shaped by the past--so much so that creative futures are overtaken and sink into pasts." —George Zebrowski, Campbell Award-winning author of Brute Orbits
"An epic that combines the cerebral satisfactions of Umberto Eco's The Name of the Rose with a ripping, gripping, time-tripping vision of a near-future apocalypse." —James Morrow, Nebula Award-winning author and editor of the SFWA European Hall of Fame
"Wolfgang Jeschke's The Cusanus Game brings us an insightful European writer of well known abilities. His sensibility reflects another way of looking at our future possibilities, and his crafty eye picks up matters American sf can miss. I recommend Jeschke because we need to see science fiction as a world literature, and he is one of its first rank practitioners." —Gregory Benford, New York Times bestselling co-author of Bowl of Heaven
"A virtuoso performance, so complex and well constructed that it can stand beside the best time travel stories, a tour-de-force that turns artifice into high art." —Franz Rottensteiner, Science Fiction Writers, on "The King and the Dollmaker"
"Philosophical fiction as well as science fiction, ambitious, challenging, the master-work of a long creative career." —Tom Shippey, bestselling author of J.R.R. Tolkien: Author of the Century
"One of the most important science fiction writers of Europe today." —Michael Kandel, international award-winning translator of Stanislaw Lem