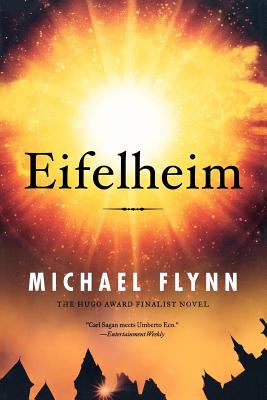 Eifelheim (Paperback)
Tor Books, 9780765319104, 320pp.
Publication Date: November 13, 2007
Other Editions of This Title:
Digital Audiobook (12/31/2005)
Mass Market (8/4/2009)
Pre-Recorded Audio Player (10/1/2009)
* Individual store prices may vary.
Description
The alien world of medieval Europe lives again, transformed by the physics of the future, by a winner of the Heinlein Award

Over the centuries, one small town in Germany has disappeared and never been resettled. Tom, a historian, and his theoretical physicist girlfriend Sharon, become interested. By all logic, the town should have survived. What's so special about Eifelheim?


Father Dietrich is the village priest of Eifelheim, in the year 1348, when the Black Death is gathering strength but is still not nearby. Dietrich is an educated man, and to his astonishment becomes the first contact person between humanity and an alien race from a distant star, when their ship crashes in the nearby forest. It is a time of wonders, in the shadow of the plague. Flynn gives us the full richness and strangeness of medieval life, as well as some terrific aliens.

Tom and Sharon, and Father Deitrich have a strange destiny of tragedy and triumph in Eifelheim, the brilliant science fiction novel by Michael Flynn.
About the Author
Michael Flynn lives in Easton, Pennsylvania. He is the winner of the Robert A. Heinlein award, and a Hugo Nominee for Eifelheim. He is the author of the Firestar series of novels, and is an Analog magazine alumnus whose fiction now appears regularly in all the major SF magazines.
Praise For Eifelheim…
"Carl Sagan meets Umberto Eco. . . .Bursting with pungent historical detail and Big Theme musings, this dense, provocative novel offers big rewards to patient readers." —Entertainment Weekly

"Heartbreaking . . . .Flynn masterfully achieves an intricate panorama of medieval life, full of fascinatingly realized human and Krenken characters whose fates interconnect with poignant irony." —Publishers Weekly, starred review

"Meticulously researched, intense, mesmerizing novel . . . for readers seeking thoughtful science fiction of the highest order." —Kirkus, starred review

"Wonderful, mesmerizing. A finely-written and deeply considered SF novel that deserves to stand with the classics in the field." —Robert Charles Wilson, award-winning author of Spin

"Eifelheim may turn out to be the best science fiction novel this year." —Stanley Schmidt

"Eifelheim is one of those very occasional novels that you know early on you will never forget. A powerhouse." —Jack McDevitt

"With a sure grasp of both speculative science and medieval history, Flynn compellingly weaves past and present together in a dialog of faith and science. With neat turns of plot and intriguing medieval and modern characters, this book, parts of which were previously published as a novella, belongs in even small libraries. Highly recommended." —Library Journal, starred review

"Michael Flynn's Eifelheim is a gripping multi-layered masterpiece, which pulls off the extraordinary feat of imagining a convincing first contact with aliens that might have taken place in 1348, and adds an equally convincing account of the manner in which the event might be rediscovered by a 21st-century historian. The intricate detective story is supplemented by a heartfelt moral commentary on the manner in which the contact was negotiated and the crucial significance it retains, in spite of having been forgotten for nearly 700 years." —Brian Stableford

"Eifelheim is a truly impressive and enjoyable novel." —Stanley Schmidt