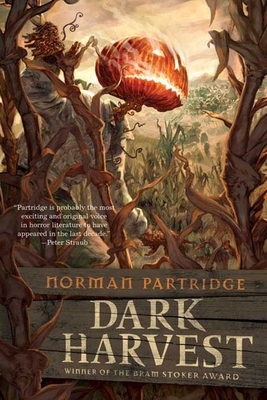 Dark Harvest (Paperback)
Tor Books, 9780765319111, 176pp.
Publication Date: September 4, 2007
Other Editions of This Title:
Digital Audiobook (11/11/2019)
Mass Market Paperback (9/28/2010)
* Individual store prices may vary.
Description
Winner of the Bram Stoker Award and named one of the 100 Best Novels of 2006 by Publishers Weekly, Dark Harvest by Norman Patridge is a powerhouse thrill-ride with all the resonance of Shirley Jackson's "The Lottery."
Halloween, 1963. They call him the October Boy, or Ol' Hacksaw Face, or Sawtooth Jack. Whatever the name, everybody in this small Midwestern town knows who he is. How he rises from the cornfields every Halloween, a butcher knife in his hand, and makes his way toward town, where gangs of teenage boys eagerly await their chance to confront the legendary nightmare. Both the hunter and the hunted, the October Boy is the prize in an annual rite of life and death.
Pete McCormick knows that killing the October Boy is his one chance to escape a dead-end future in this one-horse town. He's willing to risk everything, including his life, to be a winner for once. But before the night is over, Pete will look into the saw-toothed face of horror--and discover the terrifying true secret of the October Boy . . .
"This is contemporary American writing at its finest."--Publishers Weekly (starred review) on Dark Harvest

About the Author
A two-time Stoker Award-winner, Norman Partridge has published novels (Saguaro Riptide, Dark Harvest), short story collections (Mr. Fox and Other Feral Tales, The Man with the Barbed-Wire Fists), and several comics. Partridge lives in California.
Praise For Dark Harvest…
"Probably the most exciting and original voice in horror literature to have appeared in the last decade." —Peter Straub
"A major new talent." —Stephen King
"This is contemporary American writing at its finest." —Publishers Weekly (starred review) on Dark Harvest
"Already [Dark Harvest] has the aura of a classic. Required reading for Halloween." —Booklist
"If you're looking for a scary Halloween tale, with lots of blood and gore--and candy--you've come to the right place." —Rocky Mountain News on Dark Harvest
"Using a quick, lean prose reminiscent of the finest Gold Medal-era fiction and, at the same time, as fresh as a Quentin Tarantino film, Partridge packs more into this slim volume than most authors do in a bloated 600-page epic." —The Austin Chronicle on Dark Harvest