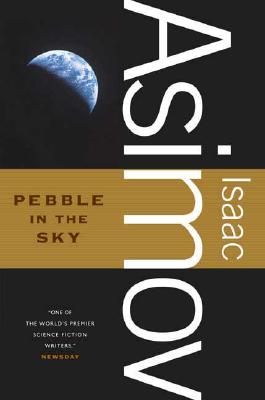 Pebble in the Sky (Hardcover)
Tor Books, 9780765319128, 256pp.
Publication Date: January 8, 2008
* Individual store prices may vary.
or
Not Currently Available for Direct Purchase
Description
One moment Joseph Schwartz is a happily retired tailor in Chicago, 1949. The next he's a helpless stranger on Earth during the heyday of the first Galactic Empire. Earth, as he soon learns, is a backwater, just a pebble in the sky, despised by all the other 200 million planets of the Empire because its people dare to claim it's the original home of man. And Earth is poor, with great areas of radioactivity ruining much of its soil--so poor that everyone is sentenced to death at the age of sixty. Joseph Schwartz is sixty-two. This is young Isaac Asimov's first novel, full of wonders and ideas, the book that launched the novels of the Galactic Empire, culminating in the Foundation series. This is Golden Age SF at its finest.
About the Author
Isaac Asimov was one of the great SF writers of the 20th century, and his hundreds of books introduced many thousands of readers to science fiction. Born in Brooklyn, he lived in Boston and in New York City for most of his life.
Praise For Pebble in the Sky…
"Isaac Asimov was the greatest science-fiction writer of all time. No matter how vast his scope, he always put distinctive, memorable characters at the heart of his stories, and he told his tales with flawless, clear prose. Without his ground-breaking work, science fiction today would be radically different--and infinitely poorer."
--Robert J. Sawyer, Hugo Award-Winning author of Rollback

"One of the world's premier science fiction writers." --Newsday

"Isaac Asimov is the greatest explainer of the age." --Carl Sagan

"For fifty years it was Isaac Asimov's tone of address that all the other voices of SF obeyed.…For five decades his was the voice to which SF came down in the end. His was the default voice of SF."
--The Encyclopedia of Science Fiction
Advertisement