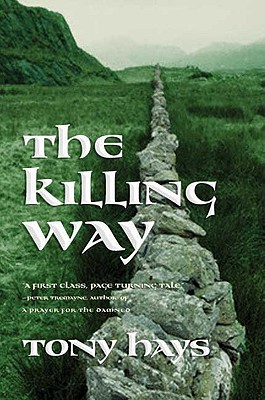 The Killing Way (Hardcover)
Forge Books, 9780765319456, 272pp.
Publication Date: March 31, 2009
Other Editions of This Title:
Paperback (3/2/2010)
Hardcover (4/1/2011)
* Individual store prices may vary.
Description
It is the time of Arthur, but this is not his storied epic. Arthur is a young and powerful warrior who some would say stands on the brink of legend. Britain's leaders have come to elect a new supreme king, and Arthur is favored. But when a young woman is brutally murdered and the blame is placed at Merlin's feet, Arthur's reputation is at stake and his enemies are poised to strike. Arthur turns to Malgwyn ap Cuneglas, a man whose knowledge of battle and keen insight into how the human mind works has helped Arthur come to the brink of kingship.
Malgwyn is also the man who hates Arthur most in the world.
After the death of Malgwyn's wife by Saxon hands, he became Mad Malgwyn, killer of Saxons and right-hand lieutenant to the warrior Arthur. Right hand, that is, until a Saxon cut his sword arm off and left him to die on the battlefield. Arthur rescued him. Now a one-armed scribe and a heavy drinker, Malgwyn rejects the half-life that his liege gave him. But loyalty is sometimes stronger than loathing…and Malgwyn is pulled toward a puzzle that he can't walk away from.
Think CSI: Medieval: gritty, powerful, and with the true ring of historical perspective and a character who sees more than those around him. The Killing Way is the first in a mystery series that is sure to be a hit with both mystery readers and historical fans alike.
About the Author
Tony Hays is a journalist and novelist. He has covered topics as varied as narcotics trafficking (earning his newspaper the Tennessee Press Association award for Public Service in 2000), political corruption, Civil War history, and the war on terror. His short fiction has appeared both in the United States and Japan, and he is the author of three novels. He resides in Tennessee.
Praise For The Killing Way…
"This author knows his history and produces a first class, page turning tale. We shall doubtless hear much more of Tony Hays."--Peter Tremayne
"There's nothing like seeing an old story through new eyes. So, how about a murder mystery set in Camelot? King Arthur, Guinevere, Merlin and the rest of the gang are all here, but Tony Hays brings them to life anew, in a tale filled with twists and turns and surprises on every page. The joy of discovery--and re-discovery--will keep you reading long into the night." --William Martin, New York Times Best Selling author of The Lost Constitution
"True to the magic of the Arthurian legend. The Killing Way is a beautiful tale rich in character and atmosphere, and dark with emotions old as time."--Howard Bahr, author of Pelican Road

"A vivid and original detective story, The Killing Way is an unusual Arthurian murder mystery set against an evocative fifth century background that is more genuine than the usual Arthurian fare. Tony Hays makes thorough and intelligent use of modern research. Yes, it might actually have been like that."--Geoffrey Ashe, leading Arthurian scholar and author of Merlin: The Prophet & His History

"An exciting, suspenseful murder mystery, The Killing Way is an excellent read."--Richard Tuerk, author of Oz in Perspective
.
or
Not Currently Available for Direct Purchase