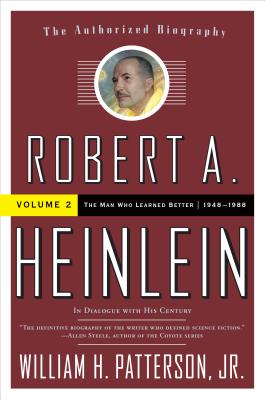 Robert A. Heinlein
In Dialogue with His Century, Volume 2: The Man Who Learned Better (1948-1988)
Paperback

* Individual store prices may vary.
Other Editions of This Title:
Paperback (6/21/2011)
Hardcover (6/3/2014)
Description
Robert A. Heinlein: In Dialogue with his Century: 1948-1988 The Man Who Learned Better: The real-life story of Robert A. Heinlein in the second volume of the authorized biography by William H. Patterson!

Robert A. Heinlein (1907–1988) is generally considered the greatest American science fiction writer of the twentieth century. His most famous and widely influential works include the Future History series (stories and novels collected in The Past Through Tomorrow and continued in later novels), Starship Troopers, Stranger in a Strange Land, and The Moon is a Harsh Mistress—all published in the years covered by this volume. He was a friend of admirals, bestselling writers, and artists; became committed to defending the United States during the Cold War; and was on the advisory committee that helped Ronald Reagan create the Star Wars Strategic Defense Initiative in the 1980s.

Heinlein was also devoted to space flight and humanity's future in space, and he was a commanding presence to all around him in his lifetime. Given his desire for privacy in the later decades of his life, the revelations in this biography make for riveting reading.
Praise For Robert A. Heinlein: In Dialogue with His Century, Volume 2: The Man Who Learned Better (1948-1988)…
"Patterson's two volumes are a remarkable picture of an influential writer and his time in history … Don't be surprised if your biography-loving friend ask you for Stranger in a Strange Land or Starship Troopers after finishing this book." —Analog

"Patterson's prose is easy to read, packed with data but never dry. I expected to work through the book over time, but found that I devoured it in a few long sessions." —The Nameless Zine

"It's likely the most we will ever learn about Heinlein (and probably in finer detail than most readers would sit still for), and despite its adulatory tone it reveals a great deal more about Heinlein's real attitudes than his own rather disappointingly bland Grumbles from the Grave." —Locus

"Fans and scholars of Heinlein will find this an invaluable resource, though there is little here to appeal to other readers." —Library Journal

"His [Patterson's] monumental biography remains an important contribution to the history of American science fiction." —Washington Post

"An essential book for studious fans of Heinlein, with valuable lessons for anyone hoping to make a living with the pen." —Kirkus Reviews

"An important foundation for future appreciations of the author's work." —Publishers Weekly
Tor Books, 9780765319630, 672pp.
Publication Date: March 15, 2016
About the Author
WILLIAM H. PATTERSON was a lifelong devotee of the works of Robert A. Heinlein, and was chosen by Virginia Heinlein to write Robert Heinlein's official biography, Robert A. Heinlein: In Dialogue with His Century: Volume 1 (1907-1948): Learning Curve and Robert A. Heinlein: In Dialogue with His Century Volume 2: The Man Who Learned Better. He died on April 22, 2014.