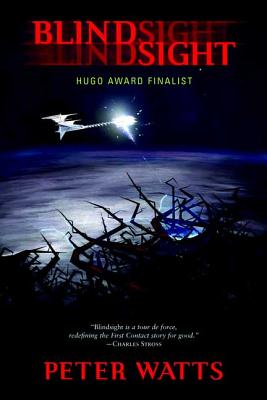 Blindsight (Firefall #1)
Paperback

* Individual store prices may vary.
Description
Blindsight is the Hugo Award–nominated novel by Peter Watts, "a hard science fiction writer through and through and one of the very best alive" (The Globe and Mail).

Two months have past since a myriad of alien objects clenched about the Earth, screaming as they burned. The heavens have been silent since—until a derelict space probe hears whispers from a distant comet. Something talks out there: but not to us. Who should we send to meet the alien, when the alien doesn't want to meet?

Send a linguist with multiple-personality disorder and a biologist so spliced with machinery that he can't feel his own flesh. Send a pacifist warrior and a vampire recalled from the grave by the voodoo of paleogenetics. Send a man with half his mind gone since childhood. Send them to the edge of the solar system, praying you can trust such freaks and monsters with the fate of a world. You fear they may be more alien than the thing they've been sent to find—but you'd give anything for that to be true, if you knew what was waiting for them. . . .
Praise For Blindsight (Firefall #1)…
"Watts explores the nature of consciousness in this stimulating hard SF novel, which combines riveting action with a fascinating alien environment. Watts puts a terrifying and original spin on the familiar alien contact story. " —Publishers Weekly (starred review)

"A brilliant piece of work, one that will delight fans of hard science fiction, but will also demonstrate to literary fans that contemporary science fiction is dynamic and fascinating literature that demands to be read." —The Edmonton Journal

"Astonishingly readable book. . . . [Watts is] one of the two or three best hard SF writers around, and this is his finest book to date." —Interzone

"Blindsight is fearless: a magnificent, darkly gleaming jewel of a book that hurdles the contradictions inherent in biochemistry, consciousness, and human hearts without breaking stride. Imagine you are Siri Keeton. Imagine you are nothing at all. You don't have to; Peter Watts has done it for you." —Elizabeth Bear, author of Hammered

"Peter Watts has taken the core myths of the First Contact story and shaken them to pieces. The result is a shocking and mesmerizing performance, a tour-de-force of provocative and often alarming ideas. It is a rare novel that has the potential to set science fiction on an entirely new course. Blindsight is such a book." —Karl Schroeder

"Blindsight is a tour de force, redefining the First Contact story for good. Peter Watts' aliens are neither humans in funny make-up nor incomprehensible monoliths beyond human comprehension -- they're something new and infinitely more disturbing, forcing us to confront unpalatable possibilities about the nature of consciousness. It's good, and it'll make your skin crawl when you stop to think about it. Strongly recommended: this may be the best hard SF read of 2006." —Charles Stross

"Blindsight is excellent. It's state-of-the-art science fiction: smart, dark and it grabs you by the throat from page one. Like a C J Cherryh book it makes you feel the danger of the hostile environment (or lack of one) out there. And unlike many books it plays with some fascinating possibilities in human development (I like the idea of some disabilities becoming advantages here) and some disconcerting ideas about human consciousness (understanding what action preceding though actually means). What else can I say? Thanks for giving me the privilege of reading this." —Neal Asher

"It seems clear that every second Peter Watts is not actually writing must be spent reading, out at the cutting edge of all the sciences and all the arts at once. Only that can't be so, because he obviously spends fully as much time thinking about everything he's read, before he sits down to turn it into story. His latest starts by proving that there are circumstances in which half a brain is better than one, or even a dozen-and then builds steadily in strangeness and wonder with every page. If Samuel R. Delany, Greg Egan and Vernor Vinge had collaborated to update Algis Budrys's classic Rogue Moon for the new millenium, they might have produced a novel as powerful and as uniquely beautiful as Blindsight. Its narrator is one of the most unforgettable characters I have ever encountered in fiction." —Spider Robinson, co-author of Variable Star by Robert A. Heinlein and Spider Robinson
Tor Books, 9780765319647, 384pp.
Publication Date: March 4, 2008
About the Author
Peter Watts is a former marine biologist, flesh-eating-disease survivor and convicted felon whose novels—despite an unhealthy focus on space vampires—have become required texts for university courses ranging from Philosophy to Neuropsychology.

His work is available in 21 languages, has appeared in over 350 best-of-year anthologies, and been nominated for over 50 awards in a dozen countries. His (somewhat shorter) list of 20 actual wins includes the Hugo, the Shirley Jackson, and the Seiun.

Peter is the author of the Rifters novels (Starfish, Maelstrom) and the Firefall series (Blindsight, Echopraxia).
or
Not Currently Available for Direct Purchase