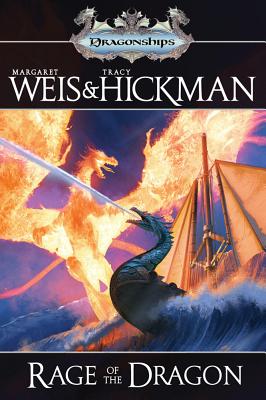 Rage of the Dragon (Hardcover)
Tor Books, 9780765319753, 368pp.
Publication Date: April 24, 2012
* Individual store prices may vary.
or
Not Currently Available for Direct Purchase
Description
From "New York Times" bestselling authors Margaret Weis and Tracy Hickman comes "Rage of the Dragon," the action-packed third book in their Dragonships fantasy series.
Skylan Ivorson is the gods-chosen Chief of all Vindras clans. But the gods from whom the Vindrasi draw their earthdwelling power are besieged by a new generation of gods who are challenging them for the powers of creation. The only way to stop these brash interlopers lies within the Five Bones of the Vektia Dragon the primal dragon forged during the creation of the world which have been lost for generations.
With the Gods of the New Dawn amassing a vast army, Skylan finds allies in former enemies. Calling upon the ogres to fight their common foes, the Vindrasi soon find themselves in the middle of an even larger war. Skylan and his Vindrasi clan must sail the Sea of Tears into the heart of the Forbidden Empire of the Cyclops, to implement a cunning yet delicate plan that risks his life and leadership at every corner. But a new enemy lies deep in the sea, one who draws upon powers never harnessed by land dwellers.
Master world-builders Margaret Weis and Tracy Hickman, who have entertained generations of fans with the Dragonlance series and the Death Gate Cycle, prove they're at the top of their game.
About the Author
MARGARET WEIS and TRACY HICKMAN published their first novel in the Dragonlance(TM) Chronicles, Dragons of Autumn Twilight, in 1984. Together, the pair worked on over a dozen other titles in the series, and they are still going strong, collaborating on more than thirty novels. Margaret Weis lives in Williams Bay, Wisconsin. Tracy Hickman lives in Utah.
Praise For Rage of the Dragon…
Praise for Bones of the Dragon:
"Weis and Hickman again demonstrate their talent for world-building and for creating likable yet flawed heroes. This Norse-flavored series opener should have a large following."  —Library Journal
"Weis and Hickman have created a believably human story out of their mix of saga and sorcery." 
—Publishers Weekly
Advertisement