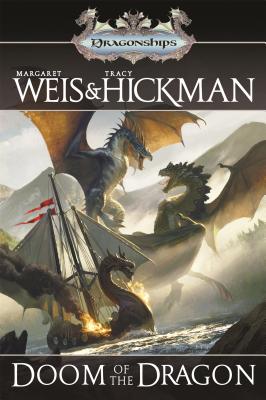 Doom of the Dragon (Hardcover)
A Dragonships of Vindras Novel
Tor Books, 9780765319760, 400pp.
Publication Date: January 5, 2016
* Individual store prices may vary.
Description
In three previous novels, Skylan Ivorson overcame obstacles that would have defeated a lesser man, rising from obscurity to become the Chief of Chiefs of the fearsome Vindrasi who sail their living dragonships far and wide to raid and plunder for the glory of the gods. However, a cruel twist of fate struck him down before he and his beloved could complete their quest for the five sacred dragonbones that would summon the great dragon Ilyrion and save their people from destruction at the hands of an evil god. But even true death is denied him, and his destiny is unfulfilled.
Caught between life and death, he must lead those who journeyed with him to battle the evil god and the vast army of the god and his human emperor. Skylan must fight as he never has before to win back his life and his love, while seeking the last Spiritbone--the key to summoning the ultimate victory--before it can be snatched away by the forces of evil.
Weis and Hickman have crafted a pulse-pounding fantasy adventure that brings this great saga to a rousing, satisfying conclusion that will stir the passions of their legions of fans.
About the Author
MARGARET WEIS is the longtime world-wide bestselling co-creator and co-author of The Dragonlace Chronicles, and recently, the Dragon Brigade trilogy. She worked at TSR, Inc., as a book editor for thirty years. She also is a publisher of role-playing games, including major franchises such as Serenity (Firefly) and Smallville.

TRACY HICKMAN and LAURA HICKMAN have been publishing game designs, books, and stories for over thirty-two years. In addition, Tracy is a New York Times bestselling coauthor of many novels, including the original Dragonlance Chronicles, Dragonlance Legends, Rose of the Prophet, and Darksword trilogies as well as the seven-book Deathgate Cycle. Tracy and Laura live in Utah.
Praise For Doom of the Dragon: A Dragonships of Vindras Novel…
"An excellent example of Margaret Weis and Tracy Hickman's world-building skills." —The Deseret News