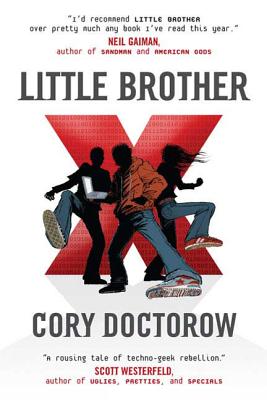 Little Brother
Hardcover

* Individual store prices may vary.
Other Editions of This Title:
Digital Audiobook (4/28/2008)
Paperback (4/13/2010)
Prebound (4/13/2010)
Description
Marcus, a.k.a "w1n5t0n," is only seventeen years old, but he figures he already knows how the system works–and how to work the system. Smart, fast, and wise to the ways of the networked world, he has no trouble outwitting his high school's intrusive but clumsy surveillance systems.

But his whole world changes when he and his friends find themselves caught in the aftermath of a major terrorist attack on San Francisco. In the wrong place at the wrong time, Marcus and his crew are apprehended by the Department of Homeland Security and whisked away to a secret prison where they're mercilessly interrogated for days.

When the DHS finally releases them, Marcus discovers that his city has become a police state where every citizen is treated like a potential terrorist. He knows that no one will believe his story, which leaves him only one option: to take down the DHS himself.
Praise For Little Brother…
"A wonderful, important book…I'd recommend Little Brother over pretty much any book I've read this year, and I'd want to get it into the hands of as many smart thirteen-year-olds, male and female, as I can. Because I think it'll change lives. Because some kids, maybe just a few, won't be the same after they've read it. Maybe they'll change politically, maybe technologically. Maybe it'll just be the first book they loved or that spoke to their inner geek. Maybe they'll want to argue about it and disagree with it. Maybe they'll want to open their computer and see what's in there. I don't know. It made me want to be thirteen again right now, and reading it for the first time." —Neil Gaiman, author of Sandman and American Gods on Little Brother

"A rousing tale of techno-geek rebellion." —Scott Westerfeld, author of Uglies, Pretties, and Specials, on Little Brother

"A worthy younger sibling to Orwell's Nineteen Eighty-Four, Cory Doctorow's Little Brother is lively, precocious, and most importantly, a little scary." —Brian K. Vaughan, author of the graphic novel Y: The Last Man on Little Brother

"A tale of struggle familiar to any teenager, about those moments when you choose what your life is going to mean." —Steven Gould, author of Jumper, on Little Brother

"A believable and frightening tale of a near-future San Francisco … Filled with sharp dialogue and detailed descriptions… within a tautly crafted fictional framework." —Publishers Weekly starred review on Little Brother (Featured in PW Children's e-newsletter)

"Readers will delight in the details of how Marcus attempts to stage a techno-revolution … Buy multiple copies; this book will be h4wt (that's 'hot,' for the nonhackers)." —Booklist starred review on Little Brother (Selected as a Booklist "Review of the Day")

"Marcus is a wonderfully developed character: hyperaware of his surroundings, trying to redress past wrongs, and rebelling against authority … Raising pertinent questions and fostering discussion, this techno-thriller is an outstanding first purchase." —School Library Journal starred review on Little Brother

"Little Brother is generally awesome in the more vernacular sense: It's pretty freaking cool ... a fluid, instantly ingratiating fiction writer ... he's also terrific at finding the human aura shimmering around technology." —The Los Angeles Times on Little Brother

"Scarily realistic…Action-packed with tales of courage, technology, and demonstrations of digital disobedience as the technophile's civil protest." —Andrew "bunnie" Huang, author of Hacking the Xbox, on Little Brother

"The right book at the right time from the right author--and, not entirely coincidentally, Cory Doctorow's best novel yet." —John Scalzi, bestselling author of Old Man's War, on Little Brother

"I was completely hooked in the first few minutes. Great work." —Mitch Kapor, inventor of Lotus 1-2-3 and co-founder of the EFF, on Little Brother

"Little Brother is a brilliant novel with a bold argument: hackers and gamers might just be our country's best hope for the future." —Jane McGonigal, designer of the alternate-reality game I Love Bees on Little Brother

"Little Brother sounds an optimistic warning. It extrapolates from current events to remind us of the ever-growing threats to liberty. But it also notes that liberty ultimately resides in our individual attitudes and actions. In our increasingly authoritarian world, I especially hope that teenagers and young adults will read it--and then persuade their peers, parents and teachers to follow suit." —Dan Gillmor, technology journalist, author of We the Media on Little Brother

"It's about growing up in the near future where things have kept going on the way they've been going, and it's about hacking as a habit of mind, but mostly it's about growing up and changing and looking at the world and asking what you can do about that. The teenage voice is pitch-perfect. I couldn't put it down, and I loved it." —Jo Walton, author of Farthing on Little Brother

"Read this book. You'll learn a great deal about computer security, surveillance and how to counter it, and the risk of trading off freedom for 'security.' And you'll have fun doing it." —Tim O'Reilly, founder and CEO of O'Reilly Media on Little Brother

"I know many science fiction writers engaged in the cyber-world, but Cory Doctorow is a native…We should all hope and trust that our culture has the guts and moxie to follow this guy. He's got a lot to tell us." —Bruce Sterling

"Cory Doctorow doesn't just write about the future--I think he lives there." —Kelly Link, author of Stranger Things Happen

"Doctorow throws off cool ideas the way champagne generates bubbles...[he] definitely has the goods." —San Francisco Chronicle

"Doctorow is one of sci-fi's most exciting young writers." —Cargo Magazine
Tor Teen, 9780765319852, 384pp.
Publication Date: April 29, 2008
About the Author
Cory Doctorow is a regular contributor to the Guardian, Locus, and many other publications. He is a special consultant to the Electronic Frontier Foundation, an MIT Media Lab Research Associate and a visiting professor of Computer Science at the Open University. His award-winning novel Little Brother and its sequel Homeland were a New York Times bestsellers. His novella collection Radicalized was a CBC Best Fiction of 2019 selection. Born and raised in Canada, he lives in Los Angeles.
Book Videos
How does Marcus's comment that he's "one of the most surveyed people in the world" set the tone for the novel? Is the statement true? Compare the school Marcus describes in the opening chapters to your own in terms of surveillance, discipline, and student-administrator relationships.
In what year or decade do you think Little Brother takes place? Cite passages from the novel to support your answer. Do you think the story could happen today? Why or why not?
Is Marcus a good kid or a bad kid? Can he be defined by either of those terms? How might Marcus describe his code of ethics regarding being "surveyed" and his right to circumvent the efforts of the surveyors? How might you define the "moral dilemma" of reprogramming RFIDs, as explained in the novel?
Describe Marcus's capture and imprisonment. What happens to Darryl? What conclusions does Marcus reach about his government and his community as a result of his imprisonment?
What does Marcus's refusal to give passwords to and answer questions from government interrogators reveal about his character? How are passwords a recurring motif in the novel?
How does the author use Marcus's mother and father to represent different points of view about government oversight of individuals? Which parent best represents your perspective?
Does the media overemphasize identity theft and internet predators while underplaying the danger of being "watched" by legal government and corporate agencies through credit card use, transportation monitoring, etc.? How has this imbalance occurred and is surveillance the greater danger?
"Don't Trust Anyone Over 25" becomes an XNet motto and then a merchandized slogan. How does today's internet quicken public adoption of new ideas? Is this a good thing, a dangerous thing, or both?
How does Marcus's physical relationship with Ange affect his actions and attitudes? Is the absence of physical contact an important consideration when studying the internet? Do people treat others the same way in internet conversations as they do face-to-face? If not, what are the differences?
Is widely disseminated information always less lethal than a carefully kept secret (e.g., a how-to on weapons building or an encryption method)? Is this a great paradox of the information age?
Are government attempts to "protect" citizens through surveillance ridiculous to anyone with an understanding of security technology? Would America be safer if all of its citizens learned more about the computers upon which they rely? How else could/should America be made safe? By whom? From whom?
What is Marcus's job at the end of the novel? What do you think are the advantages and disadvantages, satisfactions and frustrations of this job? Is it important to have people like Marcus on the internet? Why or why not?
How do the afterwords affect your reading of Little Brother? Has the experience of reading this book changed your understanding of—or your standards for—security, privacy, and freedom? If so, how?
or
Not Currently Available for Direct Purchase