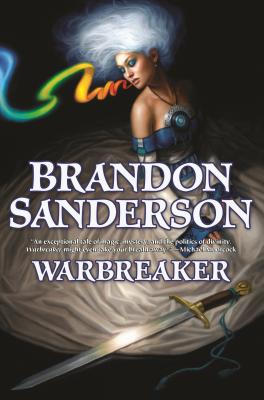 Warbreaker
Hardcover

* Individual store prices may vary.
Other Editions of This Title:
Digital Audiobook (12/2/2015)
Mass Market (3/30/2010)
MP3 CD (8/25/2015)
Paperback (12/1/2011)
Description
From #1 New York Times bestselling author Brandon Sanderson, Warbreaker is the story of two sisters, who happen to be princesses, the God King one of them has to marry, the lesser god who doesn't like his job, and the immortal who's still trying to undo the mistakes he made hundreds of years ago.

Their world is one in which those who die in glory return as gods to live confined to a pantheon in Hallandren's capital city and where a power known as BioChromatic magic is based on an essence known as breath that can only be collected one unit at a time from individual people.

By using breath and drawing upon the color in everyday objects, all manner of miracles and mischief can be accomplished. It will take considerable quantities of each to resolve all the challenges facing Vivenna and Siri, princesses of Idris; Susebron the God King; Lightsong, reluctant god of bravery, and mysterious Vasher, the Warbreaker.

Other Tor books by Brandon Sanderson

The Cosmere

The Stormlight Archive
The Way of Kings
Words of Radiance
Edgedancer (Novella)
Oathbringer

The Mistborn trilogy
Mistborn: The Final Empire
The Well of Ascension
The Hero of Ages

Mistborn: The Wax and Wayne series
Alloy of Law
Shadows of Self
Bands of Mourning

Collection
Arcanum Unbounded

Other Cosmere novels
Elantris
Warbreaker

The Alcatraz vs. the Evil Librarians series
Alcatraz vs. the Evil Librarians
The Scrivener's Bones
The Knights of Crystallia
The Shattered Lens
The Dark Talent

The Rithmatist series
The Rithmatist

Other books by Brandon Sanderson

The Reckoners
Steelheart
Firefight
Calamity
Praise For Warbreaker…
Not only has Sanderson drawn a freshly imagined world and its society, he has also given us a plot full of unexpected twists and turns. . . . Anyone looking for a different and refreshing fantasy novel will be delighted by this exceptional tale of magic, mystery and the politics of divinity. Warbreaker might even take your breath away. Michael Moorcock

Epic fantasy heavyweight Sanderson pens a powerful stand-alone tale of unpredictable loyalties, dark intrigue and dangerous magic. . . . Sanderson melds complex, believable characters, a marvelous world and thoughtful, ironic humor into an extraordinary and highly entertaining story. Publishers Weekly (starred review) on Warbreaker

Sanderson again demonstrates his capacity for handling large and complex themes while creating believable characters. Library Journal (starred review) on Warbreaker

Hilarious dialogue, descriptive action sequences, and genuinely sweet romance. . . . Sanderson knows how to wrap things up cleanly. He spins a world that's easily complex and mysterious enough to warrant sequels, but prefers to end it climactically, answering many of his biggest questions, while leaving others to the imagination. The Onion on Warbreaker

Sanderson is clearly a master of large-scale stories, splendidly depicting worlds as well as strong female characters. . . . May the author write long and prosper. Booklist on Warbreaker

A highly readable and compelling stand-alone volume from the acclaimed author of the Mistborn trilogy. . . . Highly recommended to fans of epic fantasy. The Romantic Times BOOKreviews 4 Stars TOP PICK!
Tor Books, 9780765320308, 592pp.
Publication Date: June 9, 2009
About the Author
Brandon Sanderson grew up in Lincoln, Nebraska. He lives in Utah with his wife and children and teaches creative writing at Brigham Young University. He is the author of such bestsellers as the Mistborn trilogy and its sequels, The Alloy of Law, Shadows of Self, and The Bands of Mourning; the Stormlight Archive novels The Way of Kings and Words of Radiance; and other novels, including The Rithmatist and Steelheart. In 2013, he won a Hugo Award for Best Novella for The Emperor's Soul, set in the world of his acclaimed first novel, Elantris. Additionally, he was chosen to complete Robert Jordan's Wheel of Time sequence.
Book Videos