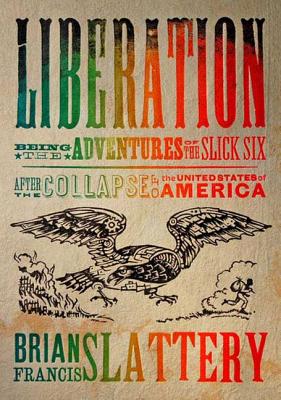 Liberation
Being the Adventures of the Slick Six After the Collapse of the United States of America
Paperback

* Individual store prices may vary.
Description
From the author of the literary pulp phenomenon Spaceman Blues comes a future history cautionary tale, a heist movie in the style of a hippie novel.

Liberation is a speculation on life in near-future America after the country suffers an economic cataclysm that leads to the resurgence of ghosts of its past such as the human slave trade. Our heroes are the Slick Six, a group of international criminals who set out to alleviate the worst of these conditions and put America on the road to recovery. Liberation is a story about living down the past, personally and nationally; about being able to laugh at the punch line to the long, dark joke of American history.

Slattery's prose moves seamlessly between present and past, action and memory. With Liberation, he celebrates the resilience and ingenuity of the American spirit.
Praise For Liberation: Being the Adventures of the Slick Six After the Collapse of the United States of America…
"Brian Francis Slattery's dystopian second novel, Liberation has many brilliant ideas, but its depiction of a 21st century revival of slavery is really what burns it into your memory…. it's a book that rewards attention, and you'll find yourself flipping back after you finish it to find the best parts of its off-kilter odyssey and piece together new connections between its huge and memorable cast of characters. It's also a book that gets even better on the second read, as you pick up on stuff and make more of the connections between the characters. Most of all, the book's vision of a post-U.S.A. America will stick with you afterwards, haunting you and maybe thrilling you." —io9

"A 21st-century New York City novel....with a remarkably light touch and some delicious prose.... Early reviews of Spaceman Blues threw around the names of Pynchon, Doctorow, and Dick as stylistic touchstones. But Slattery should really be considered alongside NYC homeboys like Lethem and Shteyngart, the former for his loving tweaks of vintage pulp, the latter for his sharp immigrant comedy." —Will Hermes, The Village Voice on Spaceman Blues

"For fans of: the surreal odyssey of Ralph Ellison's Invisible Man; Plan 9 from Outer Space.... For all its colorful characters and gonzo thrills, Slattery's debut is first and foremost a moving portrait of Wendell's griefs." —Entertainment Weekly (Grade: A-) on Spaceman Blues

"One of the most original novels of the year…. The end of the world was never so fun." —Ain't It Cool News on Spaceman Blues

"The flaming exclamation point that begins every subsection of each chapter is one of the first signs of the intensity and passion that pervades Brian Francis Slattery's debut novel Spaceman Blues....perhaps best summed up as a love song for New York City and for life, with the volume turned up six notches higher than usual." —Rain Taxi Review of Books

"The book jacket describes Spaceman Blues as a 'literary retro-pulp science-fiction-mystery-superhero novel,' and it not only lives up to the hype, but may include a genre or two more besides…. The book weaves a mixture of gritty war elements with hardboiled Hammett-like detective mystery, poetic romance reminiscent of Isabel Allende, and science fiction that brings Stanislaw Lem to mind--into something that seems fresh and compelling." —School Library Journal

"Spaceman Blues is a welcome Band-Aid for those still mourning the loss of Kurt Vonnegut and his uniquely wacky, satirical brand of sci-fi. There's also a touch of Paul Auster's flair for genre blending and New York mythologizing.... A strange and whimsical mash note to the city, Slattery's apocalyptome proves that this newcomer is as thoughtful and irreverent as doomsayers come." —Time Out New York

"What a breathless, mad tornado of words! When it shakes itself awake the earth trembles and the helpless reader is dragged gladly into its light. I haven't had this much fun with a book in years." —Harlan Ellison® on Spaceman Blues

"It happens only very rarely--you read a book by a new author, and all you can say is 'wow.' That was the case with Spaceman Blues: 'Wow.' To say anything more would mean the inevitable descent into cheap clichés--'hooked by the first paragraph,' 'dizzying,' 'a visionary roller-coaster ride,' 'reminiscent, if anything, of Thomas Pynchon in its scope, its explosive imagination, the swirling, jazzy flow of the prose.' So much can and should be said about Mr. Slattery's debut--but I think I'll just stick with a simple 'wow'--or if you prefer a visual summation, try an exclamation point on fire." —Jim Knipfel, author of Slackjaw

"Brian Slattery's Spaceman Blues is brilliant. It's got the edgy paranoia and secret reality plotting of the best of Phil Dick, wrapped inside a contemporary stylistic sensibility that stands proudly against Miéville or Doctorow, with a heavy leavening of Nueva York emigre culture to give the work a distinctly American voice--the brawling, postmillennial, multicultural America of twenty-first century New York. This is the transmogrification of Phillip Roth's New York by way of The Matrix and a double handful of wild-ass street drugs into something all too recognizable." —Jay Lake, author of Mainspring

"Spaceman Blues is a strange new creature: apocalyptic SF with the stylistic pyrotechnics of a beat poet on speed. There is nothing else out there like it, a vaulting, twisted song of decadent and desperate parties, grief and superheroes, sex and memory, and almost incidentally, the end of the world. This book leaves a glowing handprint on the mind which will not soon fade." —Catherynne M. Valente, author of The Orphan's Tales: In the Night Garden

"Spaceman Blues is a brave, kinetic novel--a heady, original mixture of the surreal and the postmodern. It never stops moving and it never lets up. A spectacular new voice." —Jeff VanderMeer, World Fantasy Award-winning author of City of Saints and Madmen
Tor Books, 9780765320469, 304pp.
Publication Date: October 14, 2008
About the Author
Brian Francis Slattery was born and raised in upstate New York. He is an editor for the U.S. Institute of Peace and the New Haven Review. He is the author of the novels Spaceman Blues, Liberation and Lost Everything, and is also a musician. He lives near New Haven, CT.