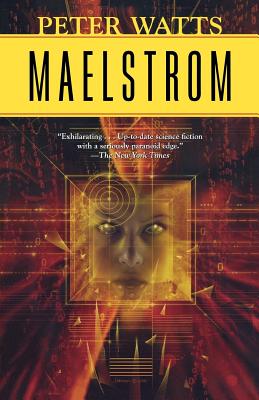 Maelstrom (Rifters Trilogy #2) (Paperback)
Tor Books, 9780765320537, 384pp.
Publication Date: January 6, 2009
* Individual store prices may vary.
Description
This is the way the world ends:
A nuclear strike on a deep sea vent. The target was an ancient microbe—voracious enough to drive the whole biosphere to extinction—and a handful of amphibious humans called rifters who'd inadvertently released it from three billion years of solitary confinement.
The resulting tsunami killed millions. It's not as through there was a choice: saving the world excuses almost any degree of collateral damage.
Unless, of course, you miss the target.
Now North America's west coast lies in ruins. Millions of refugees rally around a mythical figure mysteriously risen from the deep sea. A world already wobbling towards collapse barely notices the spread of one more blight along its shores. And buried in the seething fast-forward jungle that use to be called Internet, something vast and inhuman reaches out to a woman with empty white eyes and machinery in her chest. A woman driven by rage, and incubating Armageddon.
Her name is Lenie Clarke. She's a rifter. She's not nearly as dead as everyone thinks.
And the whole damn world is collateral damage as far as she's concerned. . . .
About the Author
Peter Watts is a former marine biologist and the Hugo and Nebula nominated author of novels such as Starfish, Maelstrom and Behemoth, and numerous short stories. He has been called "a hard science fiction writer through and through and one of the very best alive" by The Globe and Mail and whose work the New York Times called "seriously paranoid."
Praise For Maelstrom (Rifters Trilogy #2)…
"What makes his novel exhilarating instead of depressing is the conviction and control he brings to his material—up-to-date science fiction with a seriously paranoid edge." —The New York Times
"Watts moves from the relentless pressure of Starfish to the frantic speed of chaos in action, never losing the tight focus on his fascinating characters in this excellent sequel to his debut novel." —Booklist (starred review)