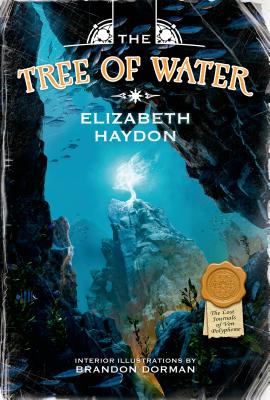 The Tree of Water (The Lost Journals of Ven Polypheme #4) (Hardcover)
Starscape, 9780765320599, 400pp.
Publication Date: October 28, 2014
* Individual store prices may vary.
Description
The epic voyages continue in The Tree of Water, the fourth adventure in bestselling author Elizabeth Haydon's acclaimed fantasy series for young readers, The Lost Journals of Ven Polypheme.
As Royal Reporter of the land of Serendair, it is the duty of young Charles Magnus "Ven" Polypheme to travel the world and seek out magic hiding in plain sight. But Ven needs to escape the clutches of the nefarious Thief Queen, ruler of the Gated City, whose minions are hunting for him. His friend, the merrow Amariel, has the perfect solution to his dilemma: Ven and Char will join her to explore the world beneath the sea.
As they journey through the sea, Ven finds himself surrounded by wonders greater than he could have ever imagined. But the beauty of the ocean is more than matched by the dangers lurking within its depths, and Ven and his friends soon realize that in order to save thousands of innocent lives, they may have to sacrifice their own. For everything in the ocean needs to eat…
"A delightful epic fantasy that will attract a readership both older and younger than the target audience." —Booklist (starred review) on The Floating Island
About the Author
As the daughter of an air force officer, ELIZABETH HAYDON began traveling at an early age and has since traveled all over the world. She draws on the imagery of these visits in The Symphony of Ages series, and blends her love of music, anthropology, herbalism and folklore into much of her writing. Haydon is also a harpist and a madrigal singer (a singer of medieval songs). She lives with her family on the East Coast.

Brandon Dorman is the illustrator of The Tree of Water.
Praise For The Tree of Water (The Lost Journals of Ven Polypheme #4)…
"Vivid world building and Ven's old-fashioned adventuring spirit may fuel young readers' imaginations, and readers unfamiliar with the previous three volumes can start here." —Booklist on The Tree of Water
"Haydon not only maintains the dazzling action, convincing characterizations, and vigorous world-building of the first book, but also carefully paves the way for further installments in The Lost Journals of Ven Polypheme series. Another surefire winner." —Booklist on The Thief Queen's Daughter
"A delightful epic fantasy that will attract a readership both older and younger than the target audience." —Booklist (starred review) on The Floating Island
"Haydon spins a story both warm and thrilling." —Publishers Weekly on The Floating Island
"Haydon's fantastical universe, originally created for her adult novels, is filled with fun details, interesting characters, fast-paced adventure, snappy dialogue, and plenty of humor and heart." —School Library Journal on The Floating Island