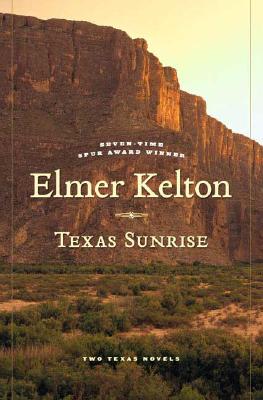 Texas Sunrise (Hardcover)
Two Novels of the Texas Republic
Forge Books, 9780765320643, 368pp.
Publication Date: October 28, 2008
* Individual store prices may vary.
Description
In Texas Sunrise, Elmer Kelton brings together two novels that tell the story of the Texas Revolution as seen by the brothers Thomas and Joshua Buckalew who emigrate to Texas at a time when the Mexican-controlled province welcomes settlers.
In Massacre at Goliad, tensions mount between Mexican authorities and American newcomers, and revolution is in the air, something Thomas Buckalew welcomes but Joshua fears – he is in love with a Mexican girl.
The story touches on the immortal battle of the Alamo, but centers on the infamous Goliad massacre, and ultimately the decisive battle of San Jacinto, which made Texas an independent republic.
After the Bugles continues where Massacre at Goliad ends – on the battlefield at San Jacinto. Joshua Buckalew tries to put the pieces back together but finds that starting over in the aftermath of war can be as challenging as the war itself. The racial differences that helped foment the conflict have not gone away. And Texas finds that being an independent republic can be more difficult than being a colonial extension of Mexico.
About the Author
Elmer Kelton (1926-2009) was the award-winning author of more than forty novels, including "The Time It Never Rained," "Other Men's Horses," "Texas Standoff" and "Hard Trail to Follow." He grew up on a ranch near Crane, Texas, and earned a journalism degree from the University of Texas. His first novel, "Hot Iron," was published in 1956. Among his awards have been seven Spurs from Western Writers of America and four Western Heritage awards from the National Cowboy Hall of Fame. His novel "The Good Old Boys" was made into a television film starring Tommy Lee Jones. In addition to his novels, Kelton worked as an agricultural journalist for 42 years, and served in the infantry in World War II. He died in 2009.
Praise For Texas Sunrise: Two Novels of the Texas Republic…
"Kelton, a wonderful storyteller, speaks in the language of the late 1870's. Many of his descriptions and phrases remind me of the verbiage my parents used after settling in eastern Oklahoma when I was child and before I attended Norman schools and the university, where many of those earth comments were considered too 'country' for a developing new state. You will enjoy reading this breath of the past." --Oklahoman on Ranger's Law
or
Not Currently Available for Direct Purchase