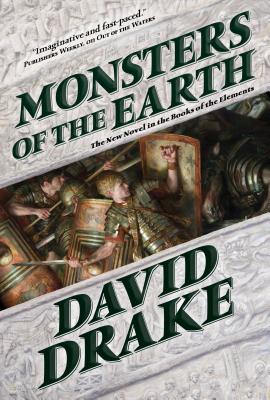 Monsters of the Earth (Hardcover)
Tor Books, 9780765320803, 368pp.
Publication Date: September 3, 2013
Other Editions of This Title:
Mass Market (11/25/2014)
MP3 CD (6/28/2016)
* Individual store prices may vary.
Description
Governor Saxa, of the great city of Carce, a fantasy analog of ancient Rome, is rusticating at his villa. When Saxa's son Varus accompanies Corylus on a visit to the household of his father, Crispus, a retired military commander, Saxa graciously joins the party with his young wife Hedia, daughter Alphena, and a large entourage of his servants, making it a major social triumph for Crispus. But on the way to the event, something goes amiss. Varus, who has been the conduit for supernatural visions before, experiences another: giant crystalline worms devouring the entire world.
Soon the major characters are each involved in supernatural events caused by a struggle between two powerful magicians, both mentored by the deceased poet and mage Vergil, one of whom wants to destroy the world and the other who wishes to stop him. But which is which? There is a complex web of human and supernatural deceit to be unraveled.
"Monsters of the Earth, "the new novel in David Drake's ongoing chronicles of Carce, The Books of the Elements, is a gripping and intricate work of fantasy.
About the Author
DAVID DRAKE, best known for his military SF, is the author or coauthor of over sixty books. Monsters of the Earth is the third book in his four-volume Books of the Elements series. He lives in Pittsboro, North Carolina.
Praise For Monsters of the Earth…
"Imaginative and fast-paced… A world so solidly realistic that the fantastic elements become all the more vivid and wondrous."
—Publishers Weekly on Out of the Waters

"Consummate storyteller and prolific author Drake's latest novel should please his many fans as well as fans of the classical age."
—Library Journal on Out of the Waters

"Has the readability and intelligence that we have come to associate with Drake's work—not only his classic military SF, but also his growing body of superior fantasy."
—Booklist on Out of the Waters

"An outstanding fantasy series, showing once again that Drake is among the most versatile of authors in the SF/Fantasy genres."
—S.M. Stirling on Goddess of the Ice Realm

"Fascinating throughout, a pleasure to read...certainly one of the finest epic fantasies of the decade."
— Piers Anthony on The Lord of the Isles

"David Drake's work here is original, engrossing, and instantly credible."
—Stephen R. Donaldson on The Lord of the Isles
or
Not Currently Available for Direct Purchase