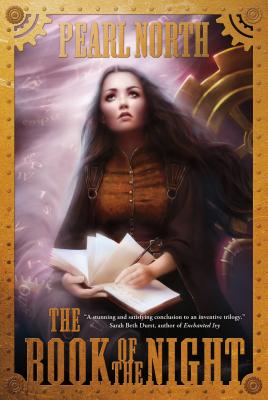 The Book of the Night (Libyrinth #3)
Hardcover

* Individual store prices may vary.
Description
The thrilling, magical conclusion of the Libyrinth trilogy
The world of the Libyrinth has experienced a series of wrenching changes. After the Libyrarians and their longtime foes the Singers discovered their common heritage, a young healer named Po found the Lion's Bloom, an ancient and enormously powerful artifact capable of rewriting reality.
Behind the mysteries of their shrouded past has always been the legendary Book of the Night. Sought for generations, both feared and revered, it is the key to this world of wonders. When vain, grasping Queen Thela steals the Lion's Bloom and imperils the very reality of the world, only the Book can heal what she has rent asunder. An epic journey through strange lands, a perilous encounter in a clockwork city, and the revelation of the truth beyond reality will lead those who find the Book to a moment when their world will either be saved...or cease to exist.
Told with the grace and skill that only Pearl North can bring to the tale, The Book of the Night is a breathtaking adventure that will linger in the memory long after the final page is turned.
Praise For The Book of the Night (Libyrinth #3)…
"The Book of the Night is a stunning and satisfying conclusion to an inventive trilogy. I devoured it in one sitting." —Sarah Beth Durst, author of Enchanted Ivy
"In this intriguing conclusion to her engrossing series, North takes readers on an unexpected journey and reveals the true scope of the complex and extraordinary world she's created." —Elizabeth Bunce, author of StarCrossed
"Nonstop action, a complex and original story...The Book of the Night will hold you captive long after you've turned the final page." —Inara Scott, author of Delcroix Academy: The Candidates
"The Boy from Ilysies proves that young adult novels don't have to be nothing more than sparkly vampires and teen angst. North's story has passion, depth, and thoughtfulness. I highly recommend this book to anybody who likes a good yarn that will make them think." —Owlcat Mountain Reviews on Libyrinth
"The dramatic, satisfying climax and deftly handled resolution of the many plot threads will convince and exhilarate readers…. A bibliographic "Guide to Quotations" nicely wraps up this book-lover's delight." —Kirkus Reviews on Libyrinth
Tor Teen, 9780765320988, 304pp.
Publication Date: September 4, 2012
About the Author
PEARL NORTH has written science fiction and fantasy for adults under a different name. She is also the author of Libyrinth and The Boy from Ilysies, the first two books in this trilogy. She lives near Detroit, Michigan.
or
Not Currently Available for Direct Purchase