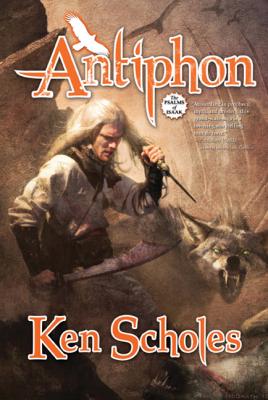 Antiphon (Hardcover)
Tor Books, 9780765321299, 384pp.
Publication Date: September 14, 2010
Other Editions of This Title:
Paperback (8/2/2011)
Mass Market Paperback (8/2/2011)
* Individual store prices may vary.
Description
Nothing is as it seems to be.

The ancient past is not dead. The hand of the Wizard Kings still reaches out to challenge the Androfrancine Order, to control the magick and technology that they sought to understand and claim for their own.

Nebios, the boy who watched the destruction of the city of Windwir, now runs the vast deserts of the world, far from his beloved Marsh Queen. He is being hunted by strange women warriors, while his dreams are invaded by warnings from his dead father.

Jin Li Tam, queen of the Ninefold Forest, guards her son as best she can against both murderous threats, and the usurper queen and her evangelists. They bring a message: Jakob is the child of promise of their Gospel, and the Crimson Empress is on her way.

And in hidden places, the remnants of the Androfrancine order formulate their response to the song pouring out of a silver crescent that was found in the wastes.
About the Author
KEN SCHOLES is a winner of the Writers of the Future contest whose short stories have appeared in various magazines and anthologies since 2000. His first novel, "Lamentation," debuted from Tor in February 2009. Canticle was the second and Antiphon is the third of the five-book series, "The Psalms of Isaak."

Ken grew up in a small logging town in the Pacific Northwest. He has honorable discharges from two branches of the military, a degree in History from Western Washington University, and is a former clergyman and label gun repairman. Ken lives near Portland, Oregon, with his wife Jen West Scholes, and their twin daughters.
Praise For Antiphon…
"The third installment of Scholes's grand-scale Psalms of Isaak saga ... expands the genre-blending narrative in glorious style.... A diverse cast of dynamic characters, a tantalizingly labyrinthine mystery, a world full of wonders, and powerful symbolism and imagery power this seamless merging of epic fantasy and science fiction."
--Publishers Weekly (Starred Review)
"Scholes continues to show his deft hand at crafting characters, and his penchant for the surprising plot twist is displayed to good effect."
--RT Book Reviews
Praise for Canticle:

"The Psalms of Isaak is a superb series. Scholes' has all the story elements of epic fantasy in place: memorable characters living in a vibrantly complex world of magic and ancient history, with plot twists and revelations sprung at just the right moments. More than that, his storytelling verve and craftsmanship makes his pages sing. He's written scenes of apocalypse and steaming metal men and invisible assassins that I won't be forgetting any time soon. Really good stuff."--David Anthony Durham, bestselling author of Acacia

"Not only is Scholes a capable world builder, he ably handles the tough task of keeping the series momentum going, intensifying the mystery so deftly that even if readers can't foresee where the story's going, it's clear that the author knows exactly what he's doing."--Kirkus Reviews (starred review) on Canticle

"Ken Scholes has already made the leap from good to great…if you thought Lamentation was impressive, then just wait until you get hold of Canticle."--Fantasy Book Critic

"Scholes adds new layers of mystery and intrigue while fleshing out the compelling characters of one of speculative fiction's most spellbinding new sagas."--Booklist on Canticle
or
Not Currently Available for Direct Purchase