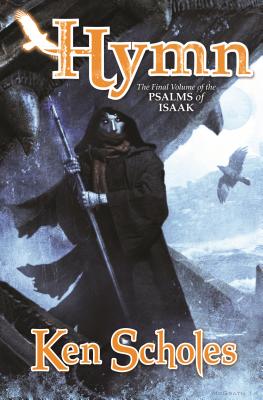 Hymn (Hardcover)
The Final Volume of the Psalms of Isaak
Tor Books, 9780765321312, 416pp.
Publication Date: December 5, 2017
Other Editions of This Title:
MP3 CD (2/13/2018)
* Individual store prices may vary.
Description
Ken Scholes completes his five-book epic that began with his acclaimed first novel Lamentation. The battle for control of The Named Lands has captivated readers as they have learned, alongside the characters, the true nature of world called Lasthome.
Now the struggle between the Andro-Francine Order of the Named Lands and the Y'Zirite Empire has reached a terrible turning point. Believing that his son is dead, Rudolfo has pretended to join with the triumphant Y'zirite forces—but his plan is to destroy them all with a poison that is targeted only to the enemy.
In Y'Zir, Rudolfo's wife Jin Li Tam is fighting a war with her own father which will bring that Empire to ruin.
And on the Moon, Neb, revealed as one of the Younger Gods, takes the power of the Last Home Temple for his own.
The Psalms of Isaak
#1 Lamentation
#2 Canticle
#3 Antiphon
#4 Requiem
#5 Hymn
About the Author
Ken Scholes is the award-winning, critically-acclaimed author of multiple novels and short stories. His work has appeared in print since 2000 and includes the Psalms of Isaak series (Lamentation, Canticle, Antiphon) and the Tor.com short story "If Dragon's Mass Eve Be Cold and Clear."
Ken's eclectic background includes time spent as a label gun repairman, a sailor who never sailed, a soldier who commanded a desk, a fundamentalist preacher (he got better), a nonprofit executive, a musician and a government procurement analyst. He has a degree in History from Western Washington University.
Ken is a native of the Pacific Northwest and makes his home in Hillsboro, Oregon, where he lives with his twin daughters.
Praise For Hymn: The Final Volume of the Psalms of Isaak…
Best of December SFF—io9

Science Fiction and Fantasy Books to Read This December—The Verge
Best SFF of December—Unbound Worlds
"Don't miss this superlative series, one of the best in speculative fiction ever."—Library Journal
"The long-awaited fourth and penultimate installment of the sci-fi/fantasy saga The Psalms of Isaak (Antiphon, 2010, etc.) takes off running and doesn't stop… Exciting, dizzying, heartbreaking." —Kirkus Reviews, starred review
"Science fiction and fantasy elements overlap seamlessly, bringing Scholes's far-future post-apocalyptic world to life in captivating detail." —Publishers Weekly
"[Requiem is] An entertaining mixture of magical fantasy and post-apocalyptic SF, which boasts a highly detailed world and finely drawn characters." —Booklist
"The Psalms of Isaak is a superb series. Scholes' has all the story elements of epic fantasy in place: memorable characters living in a vibrantly complex world of magic and ancient history, with plot twists and revelations sprung at just the right moments. More than that, his storytelling verve and craftsmanship makes his pages sing. He's written scenes of apocalypse and steaming metal men and invisible assassins that I won't be forgetting any time soon. Really good stuff." —David Anthony Durham, bestselling author of Acacia on The Psalms of Isaak
"Ken Scholes writes compelling fantasy with beautiful imagery, confident word-craft, and a keen view into the complexities of the human heart and mind. Best of all, he combines memorable characters with a fascinating plot. The Psalms of Isaak is, simply, a great story." —Kate Elliot on The Psalms of Isaak