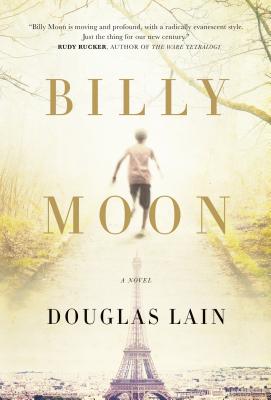 Billy Moon
Hardcover

* Individual store prices may vary.
Other Editions of This Title:
Paperback (2/24/2015)
Description
In Douglas Lain's debut novel set during the turbulent year of 1968, Christopher Robin Milne, the inspiration for his father's fictional creation, struggles to emerge from a manufactured life, in a story of hope and transcendence.
Billy Moon was Christopher Robin Milne, the son of A. A. Milne, the world-famous author of "Winnie the Pooh" and other beloved children's classics. Billy's life was no fairy-tale, though. Being the son of a famous author meant being ignored and even mistreated by famous parents; he had to make his own way in the world, define himself, and reconcile his self-image with the image of him known to millions of children. A veteran of World War II, a husband and father, he is jolted out of midlife ennui when a French college student revolutionary asks him to come to the chaos of Paris in revolt. Against a backdrop of the apocalyptic student protests and general strike that forced France to a standstill that spring, Milne's new French friend is a wild card, able to experience alternate realities of the past and present. Through him, Milne's life is illuminated and transformed, as are the world-altering events of that year.
In a time when the Occupy movement eerily mirrors the political turbulence of 1968, this magic realist novel is an especially relevant and important book.
Praise For Billy Moon…
Praise for Billy Moon
"Lain proves himself adept at dramatizing such decidedly non-whimsical matters as autism, parent-child estrangement, and the quest for individual identity amidst political upheaval." —James Morrow, author of The Last Witchfinder
"The mark of great writing is how it seeps into your everyday life without you even noticing and becomes part of your reality. This book is all about that spooky, enchanted place between fictions and worlds, and it will seep into your reality too." 
—McKenzie Wark, author of A Hacker Manifesto
"Doug Lain's genius is somehow both uniquely American and international in flavor—alienated, obsessive, strange and touching all at the same time. The surreal emotional landscapes he explores in Billy Moon are simply astonishing."  —M.K .Hobson, author of the Nebula Award finalist novel The Native Star
"Douglas Lain has a great brain. I am hugely impressed with his prospects..." —Jonathan Lethem, New York Times bestselling author
"I don't know anyone else doing quite what Lain is doing; fascinating work, moving, strikingly honest, powerful." — Locus
"Doug Lain's Billy Moon is postmodern SF,  powering past mere science and into a cubist world of strange.  It's a mash-up of Phil Dick, Francoise Sagan, and Winnie the Pooh, with a jaded Christopher Robin at the heart of the 1968 Paris student revolution.  Billy Moon is moving and profound, with a radically evanescent style.  Just the thing for our new century." —Rudy Rucker, author of the WARE Tetralogy
"Billy Moon is a beautifully told story gathering within its pages the original Christopher Robin, the Paris strikes of May 1968, the power of dreams, Guy DeBord and children's toys. In Mr. Lain's hands this unexpected and truly remarkable combination works in ways I'd not have imagined. Highly recommended!" —Jack Womack, author of Elvissey
"Doug Lain melts reality into this compelling, complex novel of the year the political got personal and the personal got weird. 1968 is today. Read it." —Eileen Gunn, Nebula award-winning author
"Douglas Lain makes his desires literature. Billy Moon whips the Spectacle into amusing shapes, shaking out cultural icons, political renegades, philosophical bomb throwers, and time-tripping love bandits. In a world ruled by lies, fiction is a basic truth. What better time to turn words into revolution?" —Dennis Perrin, author of Savage Mules: The Democrats and Endless War and Mister Mike: The Man Who Made Comedy Dangerous
Tor Books, 9780765321725, 272pp.
Publication Date: August 27, 2013
About the Author
DOUGLAS LAIN's short fiction has appeared in many magazines and journals here and abroad. Since 2009, he has produced the weekly podcast Diet Soap, interviewing a wide range of fascinating, engaging people with insights for the new millennium: philosophers, mystics, economists, and a diverse group of fiction writers. He lives in Portland, Oregon, with his wife and children.
or
Not Currently Available for Direct Purchase