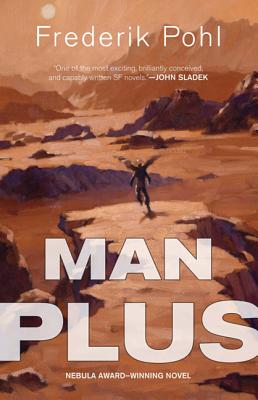 Man Plus (Paperback)
Orb Books, 9780765321787, 272pp.
Publication Date: April 26, 2011
* Individual store prices may vary.
Description
The Nebula Award–winning masterwork by the author of Gateway

In the not-too-distant future, a desperate war for natural resources threatens to bring civilization to a crashing halt. Nuclear warships from around the globe begin positioning themselves as the American government works feverishly to complete a massive project to colonize Mars. Former astronaut Roger Torraway has agreed to be transformed by the latest advances in biological and cybernetic science into something new, a being that can survive the rigors of Mars before it is terraformed. Becoming Man Plus will allow him to be the linchpin in opening the new Martian frontier…but not without challenging his humanity as no man has ever been challenged before.
A bestselling, Nebula Award–winning novel when first published more than thirty years ago, this book is now more relevant than ever, as the battle between corporate interests and those who seek to save Earth's natural resources steadily escalates. The question of where man will go once the world's food, water, and oil have run out has yet to be answered. Man Plus by Frederick Pohl is a brilliantly imagined, compelling possible scenario that has enthralled countless readers.
About the Author
Frederik Pohl (1919-2013) was one of science fiction's most important authors. Among his many novels are Gateway, which won the John W. Campbell Memorial Award, the Hugo Award, the Locus SF Award, and the Nebula Award, Beyond the Blue Event Horizon, which was a finalist for the Hugo and Nebula Awards, and Jem, which won the 1980 National Book Award in Science Fiction. He also collaborated on classic science fiction novels including The Space Merchants with Cyril M. Kornbluth. Pohl was an award-winning editor of Galaxy and If, a book editor at Bantam, and served as president of the Science Fiction Writers of America. He was named a Grand Master of Science Fiction by SFWA in 1993, and was inducted into the Science Fiction and Fantasy Hall of Fame.
Praise For Man Plus…
"Frederik Pohl, one of the old pros of the genre, never takes unnecessary risks. For him, science fiction is a form of play--an excusable indulgence since he plays it so much better than most people." —The New York Times Book Review
"We might expect a Frederik Pohl novel to be solid, competent, thoroughly readable sf, well-plotted and brilliantly dramatized. Man Plus is all of these, and it is also horrifyingly believable, a dark mirror held up to today's world...Man Plus is probably Frederik Pohl's best novel so far, and surely one of the most exciting, brilliantly conceived and capably-written sf novels of the past decade." —John Sladek, Foundation
"Pohl is quietly ready to discuss just about any aspect of literature, science, publishing, or politics, and his decades of experience in speculative fiction make him a trove of knowledge. But don't let his nice-guy reputation fool you. If you're going to brag to Frederik Pohl about not reading science fiction, you'd better duck." —Amazing Stories
"The most consistently able writer science fiction, in all its forms, has yet produced." —Kingsley Amis, author of New Maps of Hell
"Peerless in his own generation, with few equals of any age. One of the 50 most influential people in the Chicago Book World." —Newscity
"One of the grand old men of SF." —Publishers Weekly