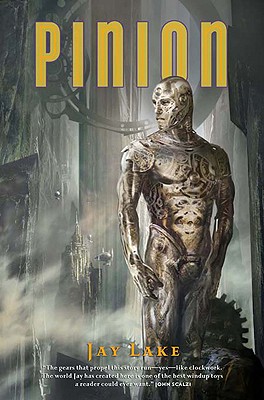 Pinion (Hardcover)
Tor Books, 9780765321862, 352pp.
Publication Date: March 30, 2010
Other Editions of This Title:
Paperback (6/21/2011)
* Individual store prices may vary.
Description
"The delight is in what's seen en route, as Lake has configured his world-dominating empires, one British, the other Chinese, with huge and devoted attention to the last detail. The delight of the next volume--prefigured with unrelenting clarity in Escapement's final pages--should be the discovery that the destination adds up."
--Washington Post Book World on Escapement

Rejoin the Librarian and the Chinese submarine captain, the British sailor, the clockwork man, and the young sorceress who has gone south of the great equatorial wall.  This adventure in Lake's Clockwork Earth continues the tale begun in Escapement.

"The very cosmology of this world is an enigmatic astonishment, and it underpins every single bit of action and character….Lake has a ball transporting his characters up and down this magnificent world, subjecting them to all sorts of perils and escapes in a wild variety of settings. His three main protagonists all exhibit distinct and memorable personalities that allow us to filter their world through three prisms of intelligence and attitude….Fantasy has always been "escapist" in the best sense of the word, and Lake engineers a fine tale of humans in search of liberation from the clockwork and customs that ensnare them and us as well."
--Sci-Fi Weekly on Escapement
About the Author
JAY LAKE lives and works in Portland, Oregon, within sight of an 11,000-foot volcano. He is the author of more than two hundred short stories, four collections, and a chapbook, along with novels from Tor Books, Night Shade Books, and Fairwood Press. Lake is also the co-editor, with Deborah Layne, of the critically-acclaimed "Polyphony" anthology series from Wheatland Press. In 2004, Lake won the John W. Campbell Award for Best New Writer. He has also been a Hugo nominee for his short fiction and a three-time World Fantasy Award nominee for his editing.
Praise For Pinion…
"Political conflicts and philosophical arguments find closure at last in this splendidly baroque whirl of geomancy and Victorian clockwork...Lake wields big themes—magic and religion versus science, free will, colonialism, and a bit of romance—with surprising elegance, and readers will enjoy cherishing the characters and pondering the concepts of this "clockpunk" world. –Publishers Weekly, starred review, on Pinion
"The delight is in what's seen en route, as Lake has configured his world-dominating empires, one British, the other Chinese, with huge and devoted attention to the last detail. The delight of the next volume--prefigured with unrelenting clarity in Escapement's final pages--should be the discovery that the destination adds up."--Washington Post Book World on Escapement

"The very cosmology of this world is an enigmatic astonishment, and it underpins every single bit of action and character...Fantasy has always been "escapist" in the best sense of the word, and Lake engineers a fine tale of humans in search of liberation from the clockwork and customs that ensnare them and us as well."--Sci-Fi Weekly on Escapement
More praise for Escapement:

"Dazzlingly constructed, appealingly populated and often fascinating."
--Kirkus Reviews

"With its airships, submarines, world-spanning gears, and fantastic creatures, Lake's clockwork world continues to be a fantastic place to visit."
--Booklist

"[Mainspring and Escapement] have certainly set up a canvas grand enough for further adventures, meditations, and (partial) revelations, in the Wolfean tradition. I hope to see more."
--Locus
or
Not Currently Available for Direct Purchase