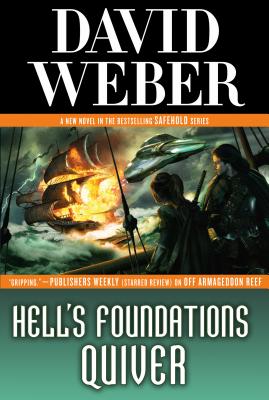 Hell's Foundations Quiver
A Novel in the Safehold Series
Hardcover

* Individual store prices may vary.
Other Editions of This Title:
Digital Audiobook (10/12/2015)
Mass Market (8/30/2016)
CD-Audio (10/13/2015)
Description
Hell's Foundations Quiver: David Weber's New York Times-bestselling Safehold series begun with Off Armageddon Reef, By Schism Rent Asunder, By Heresies Distressed, A Mighty Fortress and Like a Mighty Army.

TURNING OF THE TIDE

Centuries ago, the human race fought its first great war against an alien race-and lost. A tiny population of human beings fled to distant Safehold. Centuries later, their descendants have forgotten their history; for them, life has been an eternal Middle Ages, ruled by the Church of God Awaiting, whose secret purpose is to prevent the re-emergence of industrial civilization.

But not all of Safehold's founders were on board with this plan. Those dissidents left behind their own secret legacies. One of those is Merlyn Athrawes, cybernetic avatar of one of Earth's long-dead defenders, now reawakened after a thousand years to restart human progress and reclaim our place in the universe. Merlyn has intervened in the small Safeholdian realm of Charis, seeding it with ideas and innovations and helping it to rise to challenge the hegemony of the Church.

It's been a long and bloody fight, but aided by a stream of inventions--breech-loading rifles, signal rockets, claymore mines, new approaches to manufacturing and supply-Charis and its few allies seem to have finally gained the upper hand. Now major realms have begun to consider switching sides.

To all these ends, Merlyn Athrawes has been everywhere, under multiple disguises and wielding hidden powers. The secret of who and what he is has been closely held. But a new player has arrived, one who knows many secrets-including Merlyn's own.

Safehold Series
1. Off Armageddon Reef
2. By Schism Rent Asunder
3. By Heresies Distressed
4. A Mighty Fortress
5. How Firm A Foundation
6. Midst Toil and Tribulation
7. Like A Mighty Army
8. Hell's Foundations Quiver
9. At the Sign of Triumph
Tor Books, 9780765321879, 784pp.
Publication Date: October 13, 2015
About the Author
David Weber is a science fiction phenomenon. His popular Honor Harrington and Honorverse novels—including Mission of Honor, At All Costs, and Torch of Freedom—are New York Times bestsellers and can't come out fast enough for his devoted readers. He is also the author of the Safehold series, including Off Armageddon Reef, By Schism Rent Asunder, By Heresies Distressed and A Mighty Fortress. His other top-selling science fiction novels include Out of the Dark, the Dahak books and the Multiverse books, written with Linda Evans. He has also created an epic SF adventure series in collaboration with John Ringo, including We Few. His novels have regularly been Main Selections of the Science Fiction Book Club. Weber has a bachelor's degree from Warren Wilson College, and attended graduate school in history at Appalachian State University. He lives in South Carolina.
or
Not Currently Available for Direct Purchase