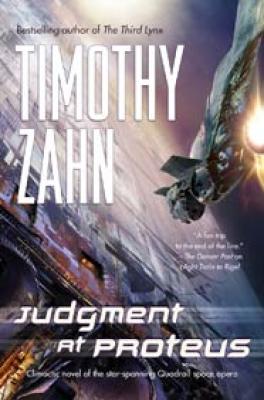 Judgment at Proteus (Hardcover)
Tor Books, 9780765322135, 416pp.
Publication Date: June 5, 2012
* Individual store prices may vary.
or
Not Currently Available for Direct Purchase
Description
The climactic novel of the star-spanning Quadrail space opera
In Timothy Zahn's Judgment at Proteus, the Quadrail that connects the twelve civilizations of our galaxy has been the flashpoint of a battle for dominance fought mostly unnoticed by humankind. But Frank Compton of Earth, aided by the enigmatic woman Bayta, has fought on the front lines, using every bit of his human ingenuity and secret agent skills to outwit the Modhri, a group intelligence that would control the minds of every sentient being it can touch.
Following a trail of deception and death to Proteus Station, Compton has discovered a conspiracy that threatens all life in the galaxy: the Shonkla'raa, an ancient enemy thought to be long dead, is rising again. So serious is the danger that the Modhri, the enemy of his enemy, may now be his friend, as the burgeoning threat of a race of invincible soldiers emerges.
If Compton and Bayta can't stop them, the Shonkla'raa will decimate all who oppose them, destroying the Quadrail and billions of lives throughout the galaxy.
About the Author
TIMOTHY ZAHN is the author of more than forty science fiction novels. He has also written many short stories, as well as Cascade Point, which won the Hugo Award for best novella. His other works include the Dragonback series, of which Dragon and Thief was an ALA Best Book for Young Adults, and the bestselling Star Wars(TM) novel, Heir to the Empire. Zahn lives in Oregon.
Praise For Judgment at Proteus…
"One of the first new writers to rivet my attention so thoroughly I almost missed my train. Since then he's grown impressively, and remains one of science fiction's best practitioners of solid imagining and storytelling."—Stanley Schmidt, Analog
"Tim Zahn is a master of tactics and puts his own edge on complex hard-SF thrillers. His original work is sure to please his legions of Star Wars fans."—Kevin J. Anderson, New York Times bestselling coauthor of Dune: The Battle of Corrin
"Timothy Zahn's Judgment at Proteus delivers exactly what his many fans expect: memorable characters, intricate plot, fascinating ideas, and more than a modicum of wit."—Mike Resnick, award-winning science fiction and fantasy author
Advertisement