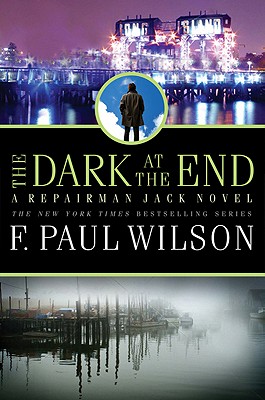 The Dark at the End (Hardcover)
Tor Books, 9780765322838, 336pp.
Publication Date: October 11, 2011
* Individual store prices may vary.
or
Not Currently Available for Direct Purchase
Description
Bound by his promise to Glaeken, Jack has refrained from making any direct moves against Rasalom. But things have changed so there's nothing holding Jack in check any longer. Other changes are occurring as well. Jack is healing at an accelerated rate--much like Glaeken did when he was immortal. This can only mean that Glaeken's time is almost up and when he dies, Jack takes his place.

Rasalom continues to plot against the Lady. Twice she has died and returned; a third time and she will be gone, leaving a clear path for the Otherness to infiltrate this reality. But Ernst Drexler, formerly Rasalom's go-to guy for logistical support, fears he will be left out in the cold when the Change comes. He forms an uneasy alliance with Jack, who is preparing to face their old enemy.

Meanwhile, Dawn Pickering is searching for her supposedly dead baby. The trail leads her to a mansion in a remote Long Island coastal town, where she discovers a truth she could have never imagined.

Now the stage is set for Jack's massive assault on Rasalom. Jack knows he's got just one shot. But it's not just a matter of taking out Rasalom: he also must safely retrieve Dawn's child and minimize collateral damage. So, he comes up with a foolproof plan.

But fools are always with us .
About the Author
F. Paul Wilson is the "New York Times" bestselling author of horror, adventure, medical thrillers, science fiction, and virtually everything in between. His books include the Repairman Jack novels, including "Ground Zero," "The Tomb," and "Fatal Error"; the Adversary cycle, including "The Keep"; and a young adult series featuring the teenage Jack. Wilson has won the Prometheus Award, the Bram Stoker Award, the Inkpot Award from the San Diego ComiCon, and the Lifetime Achievement Award of the Horror Writers of America, among other honors. He lives in Wall, New Jersey.
Praise For The Dark at the End…
"Repairman Jack is one of the most original and intriguing characters to arise out of contemporary fiction in ages. His adventures are hugely entertaining."--Dean Koontz on the Repairman Jack novels "Jack stand[s] out from the supernatural pack. The books are about an ordinary guy doing whatever it takes to protect the innocent, and that's a story that always has resonance."--The Chicago Sun-Times on By the Sword "A canny mix of sci-fi paranoia and criminal mayhem. Bloodline starts fast, keeps the accelerator down, and defies you to stop reading."--Entertainment Weekly
Advertisement