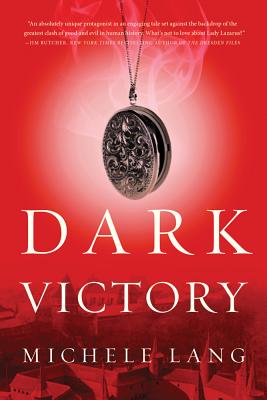 Dark Victory (Lady Lazarus #2) (Paperback)
Tor Books, 9780765323187, 320pp.
Publication Date: January 17, 2012
Other Editions of This Title:
Mass Market Paperbound (6/1/2015)
* Individual store prices may vary.
Description
Magda Lazarus was a reluctant witch until the dire threat of Nazi Germany convinced her to assume the mantle of her family's ancient powers. But though this young, beautiful Jewish woman has fought off Hitler's SS werewolves and the demon who would rule through the Führer, she has been unable to prevent the outbreak of World War II.

As long as Magda can summon spirits, there is still a chance to save people from the dire threat of the Holocaust. Her family's guardian angel, Raziel, stands beside her in the battle against the human and supernatural forces of evil arrayed against her people and all of Europe.

In Michele Lang's Dark Victory, as the Nazis prepare to invade Poland, Magda and her beloved Raziel marshal their own army, a supernatural force that will battle Hitler's minions to the death…or beyond.
About the Author
MICHELE LANG is the author of the historical urban fantasy Lady Lazarus trilogy. Like her protagonist Magda, Lang is of Hungarian-Jewish ancestry. She and her family lives on Long Island.
Praise For Dark Victory (Lady Lazarus #2)…
"Michele Lang's Dark Victory is the best entry yet in a groundbreaking, rich, enthralling series that combines the darkest days of World War II with magic, very human characters, and stakes that couldn't be higher. A tour de force!" —Rachel Caine, New York Times bestselling author

"A stunning sequel to Lady Lazarus. Lang really makes you believe supernatural forces were at work in the Third Reich!" —Cathy Clamp, USA Today bestselling author

"Lang's realization of an alternate history where supernatural forces join the conflict of World War II is daringly conceived and brilliantly executed.." —Janet Mullany, bestselling author of Jane and the Damned

"It's even better than the last one. Actually, it's awesome. Lang just gets better and better. I can't wait to see what will happen next." —Kat Richardson, bestselling author of the Greywalker series

"An absolutely unique protagonist in an engaging tale set against the backdrop of the greatest clash of good and evil in human history. What's not to love about Lady Lazarus?" —Jim Butcher, bestselling author of The Dresden Files series on Lady Lazarus

"Lang crafts a creative and tense story as all of Europe awaits the September invasion of Poland. Lang is a writer to watch and is sure to have wide appeal to fans of Jim Butcher, Kat Richardson, and other urban-fantasy A-listers." —Booklist, starred review on Lady Lazarus

"It's a dark little gem of a book. Strange and stirring and unlike any historical fantasy I've read before. I hope we'll hear a lot more from Ms. Lang." —Kat Richardson, bestselling author of The Greywalker series on Lady Lazarus

"Lyrical, haunting and full of a dark, sublime beauty, Lady Lazarus is simply stunning." —Nalini Singh, New York Times bestselling author of Blaze of Memory on Lady Lazarus

"A fascinating story and concept--a daughter of the Lazarus bloodline capable of rising from the dead. Filled with adventure, imbued with history, and beautifully told. Wish I had thought of it." —Sunny, bestselling author of Lucinda, Dangerously on Lady Lazarus

"With lyrical prose, a fascinating heroine, and a darkly powerful, emotional narrative, Lady Lazarus is simply magic. Intriguing, beautiful, and impossible to put down." —Meljean Brook, bestselling author of The Guardians series on Lady Lazarus

"Michele Lang's Lady Lazarus is a beautifully written tale set in a complex, alternate Nazi Europe. The characters are dark and well developed, and the author is a talented storyteller." —Faith Hunter, author of the Rogue Mage Series on Lady Lazarus

"Lady Lazarus is brilliantly original and delicious to read. It's the sort of book that keeps you up all night and leaves you wanting more." —Diana Pharaoh Francis, author of Bitter Night on Lady Lazarus