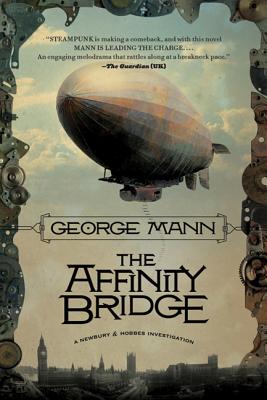 The Affinity Bridge (Paperback)
A Newbury & Hobbes Investigation
Tor Books, 9780765323224, 334pp.
Publication Date: April 27, 2010
Description
Welcome to the bizarre and dangerous world of Victorian London, a city teetering on the edge of revolution. Its people are ushering in a new era of technology, dazzled each day by unfamiliar inventions. Airships soar in the skies over the city, while ground trains rumble through the streets and clockwork automatons are programmed to carry out menial tasks in the offices of lawyers, policemen, and journalists.
But beneath this shiny veneer of progress lurks a sinister side.
Queen Victoria is kept alive by a primitive life-support system, while her agents, Sir Maurice Newbury and his delectable assistant Miss Veronica Hobbes, do battle with enemies of the crown, physical and supernatural. This time Newbury and Hobbes are called to investigate the wreckage of a crashed airship and its missing automaton pilot, while attempting to solve a string of strangulations attributed to a mysterious glowing policeman, and dealing with a zombie plague that is ravaging the slums of the capital.
Get ready to follow dazzling young writer George Mann to a London unlike any you've ever seen and into an adventure you will never forget, in The Affinity Bridge.
About the Author
GEORGE MANN heads the editorial and production teams of two divisions of the UK-based Games Workshop: Solaris Books, a SF/Fantasy publisher, and Black Library, a publisher of game-related fiction. He is the editor of The Solaris Book of New Science Fiction anthology series and the author of a number of fiction and non-fiction books, including The Mammoth Encyclopedia of Science Fiction, The Human Abstract, and Time Hunter: The Severed Man.
Praise For The Affinity Bridge: A Newbury & Hobbes Investigation…
"Steampunk is making a comeback, and with this novel Mann is leading the charge….An engaging melodrama that rattles along at a breakneck pace." —The Guardian

"Mann is at the forefront of the new generation of UK movers and shakers.Tremendous fun. Mann writes great chase scenes! [The Affinity Bridge] marks George Mann as a writer of enormous promise."—SFRevu

"Excellent world building; captures the Sherlock Holmes feel; never a boring passage.A hugely entertaining book." —SFSignal

"An enormous pile of awesome." —Chris Roberson, World Fantasy Award Finalist and Sideways Award Winner
Advertisement