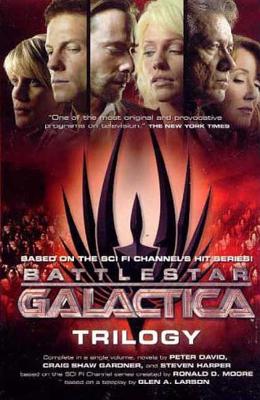 Battlestar Galactica Trilogy
The Cyclons' Secret, Sagittarius is Bleeding, Unity
Paperback

* Individual store prices may vary.
Description
Battlestar Galactica, recognized as one of the most provocative, and socially relevant series of the new millennium, earned its status as a classic American drama series after its very first, Peabody Award-winning season. Here, for the first time in one volume, are all three original Battlestar Galactica novels--based on the highly-lauded TV series that took the country by storm.

In The Cylons' Secret, by Craig Shaw Gardner, a ship, scavenging the outer settlements for valuable Cylon technologies after the first human-Cylon war, stumbles on a super-secret scientific outpost beyond charted space. Mere hours later, Battlestar Galactica receives a one-word distress call from the scavenging ship: "Cylons," causing the young Colonel William Adama to investigate.

Sagittarius Is Bleeding, by Peter David, concerns President Laura Roslin, whose prophetic dreams have infused her people with hope that they will find Earth, humanity's cradle. But her new dreams of a galaxy overrun by the Cylons disturb her even as they energize an extremist political group. The threat of violent revolt puts Roslin at personal risk and endangers the fleet.

In Unity by Steven Harper, Peter Attis, a rock star adored by all the fleet, including Starbuck, has recently been rescued from a Cylon prison ship. But after his first post-return concert, crewmembers are stricken by a strange malady that threatens to lay the fleet open to Cylon attack.
Praise For Battlestar Galactica Trilogy: The Cyclons' Secret, Sagittarius is Bleeding, Unity…
"… Au courant and hard-hitting, it's one of the best series today…" —American Film Institute (AFI) on Battlestar Galactica, the TV Series

"…one of the most original and provocative programs on television…" —New York Times on Battlestar Galactica, the TV Series

"The toughest, smartest show on television." —Rolling Stone on Battlestar Galactica, the TV Series

"…a wildly intense gem…riveting…not to be missed…" —TV Guide on Battlestar Galactica, the TV Series

"…the best show on television…" —Newsday on Battlestar Galactica, the TV Series

"…much, much better than you can possibly imagine…" —Salon.com on Battlestar Galactica, the TV Series

"Gardner puts his long and diverse experience as a writer to excellent use in this book, capturing the essence of many characters while reinforcing the basic "bible" of Battlestar Galactica." —sfrevu.com on The Cylons' Secret

"This would be strictly for Battlestar Galactica fans if not for David's genius at putting himself into another creator's world and the minds of its characters." —Booklist on Sagittarius is Bleeding:
Tor Books, 9780765323293, 640pp.
Publication Date: January 6, 2009
About the Author
Peter David is the bestselling author of dozens of books, including the New York Times bestselling Star Trek: The New Frontier series, as well as Sir Apropos of Nothing and the Knight Life trilogy. He lives on Long Island.

Craig Shaw Gardner is the author of more than 30 books and 50 short stories, including the novels A Malady of Magicks, Dragon Sleeping, and the New York Times bestselling novelization of Batman Returns. He lives in Arlington, Massachusetts.

Steven Harper is a two-time Spectrum Award finalist who has published more than a dozen novels, as well as many short stories. He lives in Michigan.