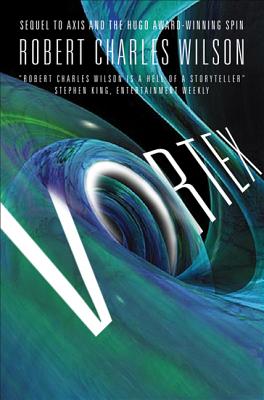 Vortex (Hardcover)
Tor Books, 9780765323422, 336pp.
Publication Date: July 5, 2011
* Individual store prices may vary.
Description
Vortex tells the story of Turk Findley, the protagonist introduced in Axis, who is transported ten thousand years into the future by the mysterious entities called "the Hypotheticals." In this future humanity exists on a chain of planets connected by Hypothetical gateways; but Earth itself is a dying world, effectively quarantined.
Turk and his young friend Isaac Dvali are taken up by a community of fanatics who use them to enable a passage to the dying Earth, where they believe a prophecy of human/Hypothetical contact will be fulfilled. The prophecy is only partly true, however, and Turk must unravel the truth about the nature and purpose of the Hypotheticals before they carry him on a journey through warped time to the end of the universe itself.
Vortex is thrilling and complex science fiction novel from Hugo Award-winning author Robert Charles Wilson.
About the Author
Born in California, ROBERT CHARLES WILSON grew up in Canada. He is the author of many acclaimed SF novels including Darwinia, Blind Lake, Julian Comstock, and the Hugo Award-winning Spin.
Praise For Vortex…
" I'm not a big science fiction fan, but I'll read anything with a story and a low geek factor. Wilson is a hell of a storyteller, and the geek factor in his books is zero. Like Battlestar Galactica on TV, this is SF that doesn't know it's SF…. There's plenty of imagination here, as well as character and heart." —Stephen King on Spin
" An astonishingly successful mélange of SF thriller, growing-up saga, tender love story, father-son conflict, ecological parable, and apocalyptic fable in prose that sings the music of the spheres." —Publishers Weekly , starred review on Spin
" Spin is many things: psychological novel, technological thriller, apocalyptic picaresque, cosmological meditation. But it is, foremost, the first major SF novel of 2005, another triumph for Robert Charles Wilson in a long string of triumphs." —Locus
" Of all SF writers currently alive, Robert Charles Wilson may be the best at balancing cosmic drama with human drama." —Locus
or
Not Currently Available for Direct Purchase