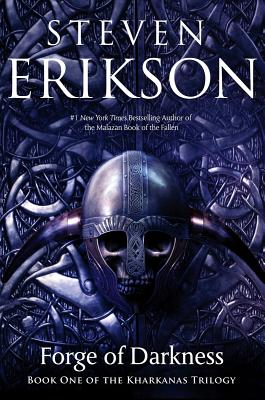 Forge of Darkness (Paperback)
Book One of the Kharkanas Trilogy (A Novel of the Malazan Empire)
Tor Books, 9780765323637, 688pp.
Publication Date: September 16, 2014
* Individual store prices may vary.
Description
Steven Erikson entered the pantheon of great fantasy writers with his debut Gardens of the Moon. Now Erikson returns with a trilogy that takes place millennia before the events of the Malazan Book of the Fallen. The Forge of Darkness introduces readers to Kurald Galain, the warren of Darkness, and tells an epic tale of a realm whose fate plays a crucial role in shaping the world of the Malazan Empire.
It's a conflicted time in Kurald Galain, the realm of Darkness, where Mother Dark reigns. But this ancient land was once home to many a power… and even death is not quite eternal. The commoners' great hero, Vatha Urusander, is being promoted by his followers to take Mother Dark's hand in marriage, but her Consort, Lord Draconus, stands in the way of such ambitions. The impending clash sends fissures throughout the realm, and as the rumors of civil war burn through the masses, an ancient power emerges from the long dead seas. Caught in the middle of it all are the First Sons of Darkness, Anomander, Andarist, and Silchas Ruin of the Purake Hold.
Steven Erikson brings to life this ancient and important tale set in the world he introduced in the Malazan Book of the Fallen.
About the Author
Steven Erikson is an archaeologist and anthropologist and a graduate of the Iowa Writers' Workshop. His Malazan Book of the Fallen series, including The Crippled God, Dust of Dreams, Toll the Hounds and Reaper's Gale, have met with widespread international acclaim and established him as a major voice in the world of fantasy fiction. The first book in the series, Gardens of the Moon, was shortlisted for a World Fantasy Award. The second novel, Deadhouse Gates, was voted one of the ten best fantasy novels of 2000 by SF Site. He lives in Canada.
Praise For Forge of Darkness: Book One of the Kharkanas Trilogy (A Novel of the Malazan Empire)…
"Readers may besiege the libraries because of Erikson's epic's resemblance to George R. R. Martin's bestselling Game of Thrones." —Booklist