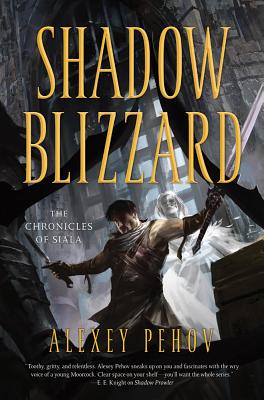 Shadow Blizzard (Hardcover)
Tor Books, 9780765324054, 462pp.
Publication Date: April 24, 2012
* Individual store prices may vary.
or
Not Currently Available for Direct Purchase
Description
"Shadow Blizzard" is the third book by the international bestselling fantasy author Alexey Pehov. Like "Shadow Prowler" and "Shadow Chaser," "Shadow Blizzard" is epic fantasy at its best; this is the third book in a trilogy that follows Shadow Harold, Siala's master thief, on his quest for the magic Horn that will restore peace to his world. After the loss of friends and comrades, after betrayal and battle, after capture by fearsome orcs, Harold finally reaches the dreaded Hrad Spein. But before he can complete his quest by stealing the magic horn, he will have to brave the most fearsome obstacles yet obstacles that have destroyed everyone before him...and Harold must do so alone.
About the Author
ALEXEY PEHOV is the award-winning author of The Chronicles of Siala series, a bestseller in his native Russia. His novel Under the Sign of the Mantikor was named "Book of Year" and "Best Fantasy Novel" in 2004 by Russia's largest fantasy magazine, World of Fantasy. ANDREW BROMFIELD has many translation credits to his name, among them the bestselling Night Watch series.
Praise For Shadow Blizzard…
Praise for Shadow Prowler:
"Toothy, gritty, and relentless. Alexey Pehov sneaks up on you and fascinates with the wry voice of a young Moorcock. Clear space on your shelf—you'll want the whole series."
—E. E. Knight

"Those who like fantasy novels offering ogres, elves, undead creatures, wizards, and the like joined in an epic quest will be delighted…pitched battles are described so well that they seem to unfold before one's eyes. A first book in a series that piques interest for the others."
—Booklist

"Bestselling Russian author Pehov translates easily in his English fantasy debut…protagonist Shadow Harold proves modest and witty enough a narrator to carry the series."
—Publishers Weekly

"[Shadow Harold is] almost like some character out of The Adventures of Fafhrd and the Gray Mouser by Fritz Leiber. He's an unlikely sort of hero for a series…  Shadow Prowler is a very good beginning to Alexey Pehov's trilogy."
—BSC Reviews

"A book that most fantasy readers will want to read and explore….  In short, if you like reading fantasy, you'll love reading this book."
—Graeme's Fantasy Book Reviews
Advertisement