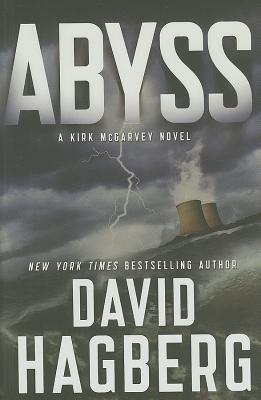 Abyss
Hardcover

* Individual store prices may vary.
Other Editions of This Title:
Mass Market (1/31/2012)
Description
It's a pleasant summer afternoon in the Gulf Stream, twenty-five miles off Hutchinson Island on Florida's east coast. NOAA scientist Dr. Eve Larsen is about to prove she has the answers to global warming, and the solution to stopping killer storms across the planet. She is a part of a multi-trillion dollar, multinational project to farm clean, endless energy from the oceans' currents--and alter the planet's weather for the better.
At that moment, contract killer Brian DeCamp walks into the Hutchinson Island Nuclear Power Station, aiming to cause a meltdown so catastrophic it'll make Chernobyl seem like nothing. Security cam footage leads to an intervention by legendary former CIA director Kirk McGarvey, who manages to thwart the catastrophe...but the failed sabotage sets off a chain of events more terrifying than McGarvey could ever have imagined. With Big Oil ruthlessly hunting for profit after the BP disaster in the Gulf, the fate of the world hangs in the balance.
Praise For Abyss…
"In Abyss, David Hagberg deftly blends action and cutting-edge technology into a well-crafted, intelligent thriller that scores a knock-out reminiscent of classic Clive Cussler, while delivering a vital message.  I love this guy, and Abyss is one of his best."
--Douglas Preston, New York Times bestselling author of Impact
"A timely thriller that examines the world of alternative energy while keeping the bullets flying…Hagberg clearly did his research here and forces the reader to confront tough questions about energy sources and the environment. Another winner from Hagberg."
--Booklist on Abyss
"Ex-CIA chief Kirk McGarvey fends off charlatans and terrorists in this exciting and largely plausible eco-thriller…. a timely and frightening novel. Readers will be left thinking, This could really happen."
--Kirkus Reviews on Abyss
"
Abyss
is a magnificently imaginative work that plunges into the core issues of our time, from humanity's ever-greater craving for enegry to corruption that stops at nothing--from environmental destructon to murder. In a thrilling tale of unlikely alliances, personal courage and shocking threats to our future, Hagberg has outdone himself in excitement, timeliness and sheer reading pleasure."--Ralph Peters,
New York Times
bestselling author of
The War After Armageddon
 "There's nothing better than a writer who thinks big and goes long. And here's David Hagberg, thinking as big as you can get in a terrific new novel called
Abyss
. If Tom Clancy sat down with the smartest enegry experts at Harvard, they could not have hatched anything half as good. So think big with Hagberg, and you'll go long into the night with his new novel."--William Martin,
New York Times
bestselling author of
City of Dreams

Forge, 9780765324108, 496pp.
Publication Date: June 21, 2011
About the Author
DAVID HAGBERG is a former Air Force cryptographer who has traveled extensively in Europe, the Arctic, and the Caribbean and has spoken at CIA functions. He has published more than twenty novels of suspense, including the bestselling Allah's Scorpion, Dance With the Dragon and The Expediter. He makes his home in Sarasota, Florida.
or
Not Currently Available for Direct Purchase