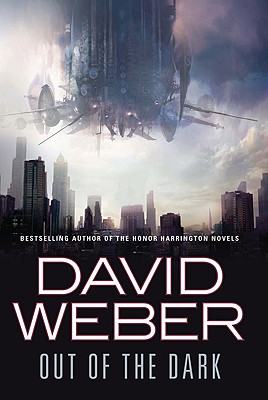 Out of the Dark
Hardcover

* Individual store prices may vary.
Other Editions of This Title:
Digital Audiobook (9/27/2010)
Mass Market (8/30/2011)
Paperback (9/1/2011)
CD-Audio (9/28/2010)
Description
The Galactic Hegemony has been around a long time, and it likes stability--the kind of stability that member species like the aggressive, carnivorous Shongairi tend to disturb. So when the Hegemony Survey Force encountered a world whose so-called "sentients"—"humans," they called themselves—were almost as bad as the Shongairi themselves, it seemed reasonable to use the Shongairi to neutralize them before they could become a second threat to galactic peace. And if the Shongairi took a few knocks in the process, all the better.
Now, Earth is conquered. The Shongairi have arrived in force, and humanity's cities lie in radioactive ruins. In mere minutes, more than half the human race has died.
Master Sergeant Stephen Buchevsky, who thought he was being rotated home from his latest tour in Afghanistan, finds himself instead prowling the back country of the Balkans, dodging alien patrols and trying to organize scattered survivors without getting killed. And in the southeastern US, firearms instructor and former Marine Dave Dvorak finds himself at the center of a growing network of resistance—putting his extended family at lethal risk, but what else can you do?
On the face of it, Buchevsky's and Dvorak's chances look bleak, as do prospects for the rest of the surviving human race. But it may well be that Shongairi and the Hegemony alike have underestimated the inhabitants of that strange planet called Earth…
Praise For Out of the Dark…
"Gripping…. Shifting effortlessly between battles among warpspeed starships and among oarpowered galleys, Weber brings the political maneuvering, past and future technologies, and vigorous protagonists together for a cohesive, engrossing whole."—Publishers Weekly, starred review on Off Armageddon Reef
Tor Books, 9780765324122, 384pp.
Publication Date: September 28, 2010
About the Author
David Weber is a science fiction phenomenon. His popular Honor Harrington and Honorverse novels--including "Mission of Honor," "At All Costs," and "Torch of Freedom"--are "New York Times" bestsellers and can't come out fast enough for his devoted readers. He is also the author of the Safehold series, including "Off Armageddon Reef," "By Schism Rent Asunder," "By Heresies Distressed" and "A Mighty Fortress." His other top-selling science fiction novels include the Dahak books and the Multiverse books, written with Linda Evans. He has also created an epic SF adventure series in collaboration with John Ringo, including "We Few." His novels have regularly been Main Selections of the Science Fiction Book Club. Weber has a bachelor's degree from Warren Wilson College, and attended graduate school in history at Appalachian State University. He lives in South Carolina.
or
Not Currently Available for Direct Purchase