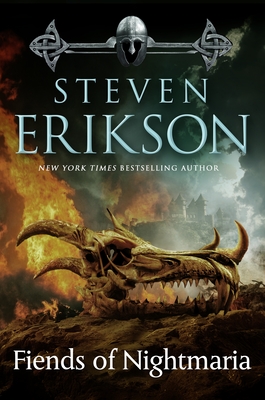 The Fiends of Nightmaria (Malazan Book of the Fallen)
Hardcover

* Individual store prices may vary.
Other Editions of This Title:
Paperback (3/16/2021)
Description
The Fiends of Nightmaria is a new novella from New York Times bestselling author Steven Erikson, set in the world of the Malazan Book of the Fallen.

The king is dead, long live King Bauchelain the First, crowned by the Grand Bishop Korbal Broach. Both are, of course, ably assisted in the running of the Kingdom of Farrog by their slowly unravelling servant, Emancipor Reese. However, tensions are mounting between Farrog and the neighboring country of Nightmaria, the mysterious home of the Fiends. Their ambassador, Ophal D Neeth Flatroq, seeks an audience with King Bauchelain, who has thus far rebuffed his overtures. But the necromancer has some other things on his plate.

To quell potential rebellion nearly all the artists, poets, and bards in the city have been put to death. A few survivors languish in the dungeons, bemoaning their fates. Well, just moaning in general really...and maybe plotting escape and revenge.
Praise For The Fiends of Nightmaria (Malazan Book of the Fallen)…
"A fast-paced, morbidly humorous adventure. Series fans will find much to love in this jam-packed, tongue-in-cheek installment." —Publishers Weekly

"Erikson is a master of lost and forgotten epochs, a weaver of ancient epics." —Salon

"Erikson has no peer when it comes to action and imagination, and joins the ranks of Tolkien and Donaldson in his mythic vision and perhaps then goes one better." —SF Site

"Gripping, fast-moving, delightfully dark, with a masterful and unapologetic brutality reminiscent of George R. R. Martin… Utterly engrossing." —Elizabeth Haydon, bestselling author of The Symphony of Ages

"This masterwork of imagination may be the high-water mark of epic fantasy." —Glen Cook, bestselling author of The Black Company
Tor Books, 9780765324276, 112pp.
Publication Date: March 16, 2021
About the Author
Steven Erikson is an archaeologist and anthropologist and a graduate of the Iowa Writers' Workshop. His Malazan Book of the Fallen series, including The Crippled God, Dust of Dreams, Toll the Hounds and Reaper's Gale, have met with widespread international acclaim and established him as a major voice in the world of fantasy fiction. The first book in the series, Gardens of the Moon, was shortlisted for a World Fantasy Award. The second novel, Deadhouse Gates, was voted one of the ten best fantasy novels of 2000 by SF Site. He lives in Canada.