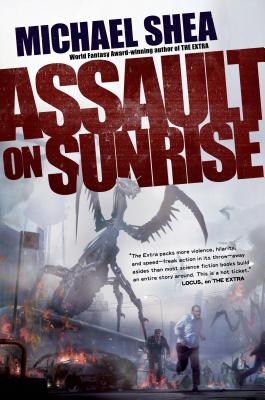 Assault on Sunrise
Hardcover

* Individual store prices may vary.
Other Editions of This Title:
Digital Audiobook (8/12/2013)
MP3 CD (8/13/2013)
Compact Disc (8/13/2013)
Compact Disc (8/13/2013)
Description
Less than a hundred years in the future, pollution, economic disaster, and the rapacious greed of the corporate oligarchy has brought America to its knees and created dystopian urban nightmares, of which L.A. may be the worst.
Curtis, Japh, and Jool are film extras, who with the help of a couple of very gutsy women survived being anonymous players in a "live-action" film in which getting killed on-screen meant getting killed for real. Surviving the shoot made them rich enough to escape the post-apocalyptic Hell that L.A. has become. But their survival was not what Panoply Studios' CEO Val Margolian had in mind, especially since it cost his company millions.
Now he's taking his revenge. After several plainclothes police are found dead in the former extras' new home, the bucolic, peaceful town of Sunrise, California, the entire town is subjected to Margolian's invidious plan to punish the entire town and make a fortune doing it. Margolian has created toxic, murderous wasp-like mechanical creatures to set upon the people of Sunrise, while his film crew captures the carnage in what promises to be the bloodiest "live-action" film yet. With their haven from L.A. besieged by the deadly assault, the former extras and their fellow townspeople are faced with a grim task: to defeat the creatures and take back their town and their freedom. Michael Shea's "Assault on Sunrise" is a saga of courage and sacrifice in a world gone mad.
Praise For Assault on Sunrise…
Praise for The Extra
"The Extra starts out at a dead run and accelerates from there, effortlessly wrapping the reader into its tale of a gone-to-hell L.A. and a little band of gutsy starvelings with blood on their hands." —Peter Straub, bestselling author of Mr. X
"Horror, humor, action, pathos, bread, circuses, giant mechanical spiders—oh, hell, where can I buy a ticket?" —Sam Hamm, screenwriter of Tim Burton's Batman
"It's a shrewd and more than slightly cynical piece of entertainment, as slickly made as any of the Hollywood productions it ostensibly satirizes. Trust me, you're gonna love it." —
Locus
"Combines Hollywood satire, dystopian societies, and themes on media, social realism and class status for a darkly funny and action-packed futuristic thriller."  —Fantasy Literature
"The Extra packs more violence, hilarity and speed-freak action in its throw-away asides than most science fiction books build an entire story around.   This is a hot ticket."  —Patton Oswalt, the voice of Ratatouille
"Michael Shea puts his people in the damndest nightmares.  He puts you in there with them, and drives the whole lot of you through a delirium of breakneck action and mad invention—hilarity and Hellfire itself.  Wanna be in the movies?  Step inside . . ."  —Stuart Gordon,writer/director of Re-Animator
"All the hallmarks of Shea's much-lauded storytelling are here:  strong, sinewy sentences--muscular metaphors--crafty characters immersed in action  both horrific and hilarious."  —Marc Laidlaw, writer of the award-winning computer game "Half-Life"
"Shea's prose is brutal and his mood savage in this horror show glimpse of things to come. The Extra presages a dystopia we Westerners can witness going up, brick by brick. Bare knuckles satire at its finest."  —Laird Barron, author of The Imago Sequence and other Stories
"Michael Shea's The Extra offers intensity, great characters, action, satire that may well be prescient, fine writing, and intelligent nonstop entertainment. What do you want, dammit? This is the one!"  —John Shirley, author of The Crow and Living Shadows
Tor Books, 9780765324368, 288pp.
Publication Date: August 13, 2013
About the Author
MICHAEL SHEA is the World Fantasy Award-winning author of Nifft the Lean and other novels. He has written many short stories for major fantasy and science fiction magazines.
or
Not Currently Available for Direct Purchase