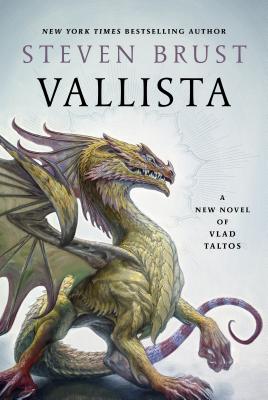 Vallista (Hardcover)
A Novel of Vlad Taltos
Tor Books, 9780765324450, 336pp.
Publication Date: October 17, 2017
Other Editions of This Title:
Paperback (8/6/2019)
MP3 CD (2/13/2018)
* Individual store prices may vary.
Description
"Brust's signature wit and narrative voice keep the action flowing and entertaining." —Publishers Weekly on Vallista

Full of swordplay, peril, and swashbuckling flair, Steven Brust's Vallista is a treat for longtime fans of this popular fantasy series, a deep dive into the mysteries of Dragaera and all within it.
Vlad Taltos is an Easterner—an underprivileged human in an Empire of tall, powerful, long-lived Dragaerans. He made a career for himself in House Jhereg, the Dragaeran clan in charge of the Empire's organized crime. But the day came when the Jhereg wanted Vlad dead, and he's been on the run ever since. He has plenty of friends among the Dragaeran highborn, including an undead wizard and a god or two. But as long as the Jhereg have a price on his head, Vlad's life is…messy.
Meanwhile, for years, Vlad's path has been repeatedly crossed by Devera, a small Dragaeran girl of indeterminate powers who turns up at the oddest moments in his life.
Now Devera has appeared again—to lead Vlad into a mysterious, seemingly empty manor overlooking the Great Sea. Inside this structure are corridors that double back on themselves, rooms that look out over other worlds, and—just maybe—answers to some of Vlad's long-asked questions about his world and his place in it. If only Devera can be persuaded to stop disappearing in the middle of his conversations with her…
Vlad Taltos Series
1. Jhereg
2. Yendi
3. Teckla
4. Taltos
5. Phoenix
6. Athyra
7. Orca
8. Dragon
9. Issola
10. Dzur
11. Jhegaala
12. Iorich
13. Tiassa
14. Hawk
15. Vallista
About the Author
Steven Brust is the bestselling author of Issola, Dragon, The Phoenix Guards, Five Hundred Years After, and many others. A native of Minneapolis, he currently lives in Las Vegas.
Praise For Vallista: A Novel of Vlad Taltos…
"Brust is one of those natural caper writers, a pulp writer in the Hammett tradition, someone with what William Gibson calls 'wheels on his tractor.' In other words, a writer who can spin a yarn that keeps you guessing until the end, aware of many precise moving parts all meshing in synchrony to drive a magnificent jeweled watch of a story." —Cory Doctorow on Hawk
"Watch Steven Brust. He's good. He moves fast. He surprises you. Watching him untangle the diverse threads of intrigue, honor, character and mayhem from amid the gears of a world as intricately constructed as a Swiss watch is a rare pleasure." —Roger Zelazny
"Wonderful…Like most of Brust's books, this witty, wry tale stands alone and is very accessible to new readers." —Publishers Weekly on Tiassa